Registrų centro naujienas
Registrų centras: NT sandorių rinka šiemet

–

dešimtadaliu kuklesnė

2022 m. gegužės 3 d.

Dėl besitęsiančio geopolitinio neapibrėžtumo ir su tuo susijusių ekonominių priežasčių šių metų pradžia nekilnojamojo turto (NT) sandorių rinkoje yra ramesnė nei buvo prieš metus. Bendras įregistruotų NT sandorių skaičius šiemet yra dešimtadaliu kuklesnis, skelbia įregistruotų NT sandorių dinamiką analizuojantis Registrų centras.

"Paprastai metų pradžia NT sandorių prasme būna rami, tačiau pavasarį įsivažiuoja. Vis dėlto šiemet vis dar tebesitęsiantis neapibrėžtumas rinkoje lemia mažesnius įregistruojamų NT sandorių skaičius nei turėjome praėjusiais metais. Iki tol rinka dar judėjo iš inercijos, tačiau balandžio mėnesio skaičius jau, tikėtina, koregavo ir įvykiai Ukrainoje. Bendras balandžio mėnesio NT aktyvumas šiemet yra ketvirtadaliu kuklesnis nei prieš metus, o pagrindinių objektų kategorijų – žemės sklypų, butų ir gyvenamųjų namų – sandorių skaičiai yra apie 20 proc. mažesni nei 2021-ųjų balandį", – says Paulius Rudzkis, data analyst at the Centre of Registers.

Per pirmus keturis šių metų mėnesius Lietuvoje iš viso įregistruota 43,2 tūkst. NT pirkimo-pardavimo sandorių – 10 proc. mažiau nei praėjusių metų sausį-balandį (48,2 tūkst.). Vien tik šių metų balandį įregistruota 11,5 tūkst. NT sandorių, arba 22 proc. mažiau nei 2021 metų balandį (14,7 tūkst.) ir 4 proc. mažiau nei šių metų kovą (11,9 tūkst.)

Šiemet visoje šalyje įregistruota 11,3 tūkst. butų pardavimų – 7 proc. mažiau nei 2021 metų sausį-balandį (12,1 tūkst.), o vien tik per šių metų balandžio mėnesį – 2,9 tūkst., arba 20 proc. mažiau nei 2021 metų balandį ir 7 proc. mažiau nei šių metų kovą.

Vilniuje šiemet buvo įregistruota 4,3 tūkst. butų pardavimų, arba 6 proc. mažiau nei prieš metus. Kaune butų sandorių skaičius per metus sumažėjo 15 proc. iki 1,4 tūkst., o Klaipėdoje fiksuotas 17 proc. butų sandorių sumažėjimas – iš viso įregistruota apie 900 sandorių.

Šiais metais visoje Lietuvoje taip pat įregistruota 4,3 tūkst. individualių gyvenamųjų namų pardavimų – 3 proc. mažiau nei 2021 metų atitinkamą laikotarpį (4,4 tūkst.). Vien tik per šių metų balandį įregistruota 1,2 tūkst. gyvenamųjų namų pardavimų, arba 16 proc. mažiau nei praeitų metų balandį ir 5 proc. mažiau nei šių metų kovą.

Visoje šalyje taip pat įregistruota 21,1 tūkst. žemės sklypų savininkų pasikeitimų – 13 proc. mažiau nei 2021 metų sausį-balandį (24,2 tūkst.), o vien tik per balandžio mėnesį – 5,7 tūkst., arba 22 proc. mažiau nei praeitų metų balandį ir 1 proc. mažiau nei šių metų kovą.

Daugiau informacijos apie NT sandorių dinamiką rasite Here.

Additional information:

While investigating the activity of the Lithuanian real estate market, the Centre of Registers summarises the data on real estate transactions, which include purchases from natural or legal persons, auctions, leasing or installments, etc., are not classified as – public land purchase transactions.

When assessing housing market data, the Centre of Registers allocates housing objects to residential buildings (buildings and buildings of one, two, three or more apartments for various social groups) and residential premises (apartments, premises for various social groups and residential premises).
Pirmojo būsto ieškantiems – sunkūs laikai: sukaupti pradinį įnašą paskolai gali ir nepavykti
LRYTAS.LT VERSLAS MANO PINIGAI
Laisvų butų kainos pirminėje Vilniaus nekilnojamojo turto (NT) rinkoje nuo metų pradžios padidėjo 7,3 proc. Vien per balandžio mėnesį, lyginant su kovu, jos pakilo 2,7 proc. Ekspertai pastebi ir tai, kad kovą-balandį, priešingai nei ankstesniais mėnesiais, sostinėje beveik neliko perkančiųjų būstus iš brėžinių, dar tik planuojamuose statyti objektuose.
"Numai" prekės ženklą valdančios bendrovės "Mano numai" vadovas Aurimas Čiagus sako, kad dėl Rusijos vykdomo karo Ukrainoje ir brangstančių žaliavų NT plėtotojai pristabdė butų pardavimus dar nepastatytuose objektuose. Anot jo, pirkėjai taip pat nori daugiau apibrėžtumo ir ėmė aktyviau žvalgytis jau pastatytų ar bent jau statomų butų. "Dar sausio-vasario mėnesiais planuojamų statyti projektų populiarumas buvo didesnis, nei jau pastatytų, tačiau situacija pasikeitė. Nuo karo pradžios projektai, kurie dar tik yra planuojami, pardavimų beveik neturėjo: kovą-balandį sostinės NT rinkoje fiksavome vos 4 tokio tipo pardavimus", – teigė A.Čiagus.
Butų pasiūla mažėja, kainos – auga "Numai" duomenimis, balandį pirminėje sostinės NT rinkoje buvo parduoti 276 butai arba net 2,5 karto daugiau nei kovą, kuomet dėl Rusijos pradėto karo Ukrainoje Vilniaus NT rinka buvo praktiškai sustojusi. Balandį NT projektų vystytojai rinkai pasiūlė 128 naujus butus, iš kurių net 75 proc. buvo 2 kambarių. Iš viso šiuo metu pirminėje Vilniaus NT rinkoje yra likę apie 2350 laisvų butų. Vidutinė laisvų butų su daline apdaila kvadratinio metro kaina balandį Vilniuje siekė 2900 eurų (kovo mėn. buvo 2800 eur/kv. m). Vidutinis 50 kv. m butas su daline apdaila Vilniuje kainuoja 145 tūkst. eurų (kovo mėn. buvo 140 tūkst. eurų). Palyginti su metų pradžia, laisvų butų kv. m kaina pakilo 7,3 proc., o vien per balandžio mėnesį, palyginti su kovu, jos padidėjo 2,7 proc. "Būsto pasiūla Vilniuje toliau mažėja, o kainos – auga. Manome, kad dėl didėjančios paklausos ir brangstančios statybų savikainos būsto kainos sostinėje ir toliau kils. Sunkiausia bus pirmojo būsto ieškantiems pirkėjams, nes kylant kainoms bei mažėjant būsto į perkamumui jie ir toliau susidurs su pagrindine kliūtimi – nepakankamu sukauptu pradiniu įnašu arba jo neturėjimu", – pažymėjo A.Čiagus.
Neatsilieka nei antrinė rinka, nei nuomos kainos Pasak A.Čiagaus, kainų kilimas toliau stebimas ir antrinėje Vilniaus būstų pardavimo rinkoje. Balandį vidutinė parduoto būsto su pilna apdaila kv. m kaina siekė 2700 eurų ir buvo maždaug 4 proc. didesnė nei kovo mėn., kuomet siekė 2600 eur/kv. m. "Antrinėje rinkoje pardavėjai, reaguodami į kylančias kainas pirminėje NT rinkoje, taip pat ėmė keisti savo lūkesčius ir koreguoti kainas. Nors kovo mėnesį antrinės rinkos kainos buvo kiek pristojusios augti, per balandį jos vėl pradėjo vytis pirminės rinkos augimą", – aiškino A.Čiagus. Laisvų butų kainos pirminėje Vilniaus NT rinkoje nuo metų pradžios padidėjo 7,3 proc. Anot jo, sostinėje pastebima ir stipriai susitraukusi nuomos pasiūla, o staiga išaugusi nuomos paklausa didino jos kainas. Vidutinė Vilniuje išnuomoto buto kaina balandžio mėnesį siekė 585 eurus ir, palyginti su kovu, pakilo 6 proc. "Nuomos rinkoje didžiausia paklausa buvo mažesniems butams ir jų smarkiai sumažėjo. Šiuo metu Vilniuje pas nuomotojus pasiūloje yra likę neproporcingai daug didelių ir prabangių butų, o tai iškreipia pasiūlą ir vidutinę nuomos kainą", – teigė A.Čiagus. Pasak jo, nuomos kainų augimas Vilniuje dar nepasiekė piko ir kils toliau, o šiuo metu sostinėje nuomotojams labiausiai apsimoka nuomoti (ir nuomininkams neapsimoka nuomotis) 1–2 kambarių butus.
So can we wait for the decline in RE prices?
In China, for the fifth month in a row, REAL prices are falling – considering whether we will feel the hangover of such construction
LRYTAS.LT BUSINESS MARKET PULSE
In China, real estate prices are falling for the fifth month. This market seems to be in crisis, or is it too early to write such a verdict? Will the hangover of construction hardship, which has grown at an unbelievable pace, be felt by the whole world, including Lithuania?
Apie tai "Žinių radijo" laidoje "Tarp keturių sienų" kalbėta su apžvalgininku Ramūnu Bogdanu, pasak kurio, pati Kinijos ekonomikos sąranga – viena didelė krizė, per kurią šalis brenda augdama. "Niekas tiksliai nežino, iš kur jie nupaišo skaičius. Bet kas belieka – tikėti jų statistika ir visais šalutiniais duomenimis", – komentavo ne sykį šioje šalyje lankęsis R.Bogdanas. Pernai rugpjūtį Kinijoje sprogo labai didelis burbulas, kai viena didžiausių Kinijos bendrovių, įeinanti į 20-ies didžiausių bendrovių sąrašą – kontroliuojančioji bendrovė "Evergrande" – pripažino, kad ji įsiskolinusi 305 mlrd. JAV dolerių. Norint suvokti skolos mąstą, reikia prisiminti, kad Lietuvos biudžetas – apie 50 mlrd. JAV dolerių. "Fantastika", – vertino apžvalgininkas. Jo manymu, susiklosčiusios situacijos priežastys – žmogiškas godumas ir noras kuo greičiau augti. Ne vienas, pradėję gyvenimą pusbadžiu kaip ir "Evergrande" įkūrėjas Hui Ka Yanas, kuris gimė medkirčio šeimoje ir buvo tėvo augintas vaikas, tokią patirtį nori palikti užmarštyje.
After graduating from Wuhan, Hui Ka Yan moved to southern China, a historically very business district, and more specifically guangzhou, through which all trade in a wide variety of goods was going from south China. Hui Ka Yan studied at a time when China's famous economic reforms were being launched. Deng Xiaoping, china's then leader, said: no matter what color the cat is, it is important that it catches mice well. According to Bogdan, this means: everyone is doing some business and charging money. The Chinese believed it and bravely did so. Hui Ka Yan founded Evergrande in 1996. As the reviewer, who started with nothing, told us, the entrepreneur brought the company into an absolute giant: the assets of the largest company in the American construction sector amount to EUR 21.8 billion. In 2007, the company's assets amounted to USD 369 billion, while Evergrande's assets amounted to USD 369 billion. Usd 100 million. This means that it is 18 times larger than the largest construction company in the UNITED States. Enlargement takes place with constant borrowing from banks, domestic and international markets.
"Šiuo metu "Evergrande" skolinga 171-am Kinijos bankui, jau nekalbant apie tai, kiek ji skolinga žmonėms, avansu mokėjusiems už būstus, kurių nebegauna, nes užsisuko finansavimo kranelis. To priežastis – nauja prezidento Xi Jinpingo ekonominė politika. Tai susiję ir su jo politinėmis nuostatomis", – kalbėjo R.Bogdanas. Jis teigė, kad Xi Jinpingas pirmiausia pradėjo kampaniją prieš IT kompanijas. Tačiau, nors "Evergrande" įkūrėjas – valdžiai labai lojalus žmogus, prasidėjo kampanija ir prieš šiuos milžinus, nes prezidentas pajuto, kad jie tapo per daug galingi. Ir iš tiesų jie, pasak R.Bogdano, vysto vakarietiško verslo su tam tikrais kiniškais nukrypimais modelius, jie per daug provakarietiški ir ne tokie lojalūs komunistų partijai, kaip norėtųsi. "Čia priminčiau analogiją su Putinu (Rusijos prezidentas Vladimiras Putinas – red. past.), kuris savo laiku paskelbė karą oligarchams: oligarchas numeris vienas Michailas Chodorkovskis buvo nuteistas, o jo "Jukos" – visiškai išdraskyta. Gana panašūs dalykai dabar prasidėję Kinijoje. Pirmieji smūgį patyrė IT gigantai", – aiškino R.Bogdanas. Dabar Kinijoje, anot jo, žmonės raginami skųsti: jei tik ką pamato – rašo skundą, jis tiriamas, o verslai apkraunami beprotiškomis baudomis. Jų nemokėti negali, firmos bankrutuoja, o kaltinimai prieina prie absurdų. Pavyzdžiui, bendrovę galima apkaltinti, kad ji yra sukūrusi mobiliąją programėlę, kurią panaudojus jums atvežė nešviežią maistą.
"In such a light came the turn of construction companies. In the Chinese economy, the construction sector accounts for 29% of gross domestic product (GDP). With such a sector, they have a rather distorted economy. For example, in Lithuania, where the construction sector is quite well developed, it generates about 8% of GDP. However, the figures speak for themselves – there are currently 65 million people in China. empty apartments that no one needs: they could lead the whole of France. Construction is not about construction, it is about absorbing money. I myself have seen the crane forests that make a huge impression, but it turns out that all this is just an image, and there is no economic basis underneath all this," the reviewer said. Construction in China goes like this: to build a block, you need land. It is governed by the provincial government. This developer sells land and earns a lot. If we add millennials in China to the traditions of corruption, there are a lot of people around who, according to Bogdan, who make a profit from it all in person. This means that there is a huge incentive for the Chinese authorities to make construction as much as possible and what will happen when it is built – they are not motifs because they are built by private companies. "The government gets its share into the budget, its share is in their pockets, and they're very good at it," Bogdan commented. The development of the RE sector is also driven by the banks that distribute the loans themselves, as China is undergoing apparently the largest population migration in history, with around EUR 0.5 billion. people move from villages to cities. "As things get accelerated with them, the processes start to get stuck – they are in such a hurry to live, to overcome the backlog they endured until the 70s of the 20th century," the reviewer considered. However, the stalled affairs of the construction sector are causing a chain reaction: since there are millions of people in the army working in construction, we have to turn our heads around what to do with those 'who create those 29% of GDP that no one needs'.
Another thing is that construction is served by a large number of other sectors. It is estimated that if land sales in China fell by 30% and house sales fell by 15%, the country's GDP would contract by about 4.1%, "which is quite serious," said Bogdan. There is also the banking sector. The Chinese authorities have already warned Evergrande not to dare to go bankrupt, as writing off such debts would leave banks with terrible holes. This, in turn, would cross over the yuan. The central bank is trying to rescue the situation - last month it decided to cut interest rates abruptly to strengthen its stifling housing purchases. However, people's distrust of such actions arises.
China is already shaken by the RE crisis – the waves that have arisen there may come back to us: prices are falling, sales are falling Evergrande has not made a payment to creditors for the first time, and since the Scandal in August, about 40 Chinese construction companies have fallen on the verge of bankruptcy, as the authorities have indicated that it is enough to distribute credit to them. "That ban, mixed with mistrust, further reduces the ability of companies to borrow while increasing construction costs. Even if you can take out a loan, the question is whether you will be able to afford a home," commented Bogdan, adding that the Chinese, like Lithuanians, strongly believe in the importance of the purchased housing: about 90 percent. Chinese families live in their own dwellings.



Money is no longer enough for those who want to buy a home in the capital, but there is another bad news
In January, 7 per cent fewer houses were sold in the primary vilnius real estate (RE) market than in December, while prices of vacant houses increased by 2 per cent during this period. Experts estimate that in January, more than 15 different projects raised the prices of homes they sold. The rise in prices is also due to the fact that residents buy out the cheapest
"The biggest obstacle for those who want to buy a home in the capital, as in previous months, is the lack of an initial contribution. With a consistent rise in RE prices, the accumulated funds may not be enough and additional savings will have to be made," says Aurimas Chigus, head of Mano numai, which owns the numai brand. For example, according to him, if residents planned to buy a two-room apartment in December for 135 thousand. In January, such an apartment could already cost over EUR 138 000. Euro. In such a case, the initial contribution would also have required an additional EUR 450, which is not the case for everyone to save time during the month. Developers of new projects raised prices
Experts estimate that in January, more than 15 different projects raised the prices of homes they sold.
According to the company, in January, 395 dwellings were sold in the primary market of Vilnius REAL, or 7 per cent less than in December, when 425 of them were sold. The average price of a house sold with partial decoration amounted to EUR 146 thousand. This was 7% higher than in December. During the first month of this year, 8 completely sold-out projects were registered in Vilnius, and 4 new projects presented their dwellings to the market. The new projects offer 559 new dwellings to the market, but already on the last day of January only 488 dwellings remained of them. The average cost of their square meter was about 2650 euros. According to A. Chigaus, real price growth in terms of vacant housing was 2%, which was due to several reasons. First of all, the quant. (m) the price was higher than that of existing dwellings on the market. "The growth is also due to the fact that the projects first actively buy out the cheapest dwellings. This trend leaves relatively more expensive assets on the market. And the third reason is the active and continuing price growth of existing projects. For example, more than 15 different projects raised the prices of their homes for sale per square metre in January," explains A. Chigus.
Experts estimate that in January, more than 15 different projects raised the prices of homes they sold. According to him, currently in the primary housing market of Vilnius you can find about 2875 dwellings (6.5 per cent more than in December) with an average sq. m. m price is about EUR 2700. "Importantly, of the total housing supply in the recall market, only 19% of homes are already built. This means that the majority of customers can only choose a home "from paper". In January, more than 90% of all homes purchased on the primary market were bought in this way," the expert notes.
Rent prices are also rising according to the Company, currently in the secondary market of Vilnius RE the average price of an apartment for sale with full decoration reaches 170 thousand. Eur 2700 per sq. m. m, and the average area of apartments for sale is 60 sq. m. This price remained relatively stable compared to December. But according to A. Chigaus, the increase in house rental prices is observed in Vilnius. In January, the average rental price of rented housing with a full finish was about 600 euros and was about 8.5 percent higher than in December. The average area of the rented apartment is approximately 50 sq. m. "In January, the annual rental yield on rented housing was about 4.8 per cent. Landlords currently find it most worthwhile to rent, and tenants don't have to rent one-room apartments. Housing rental prices in the capital do not yet fully reflect the increase in REAL prices, therefore, we estimate that rents in Vilnius will grow faster in the near future," says A. Chigus. According to him, when assessing the current supply, the average rent for apartments offered for rent has decreased by EUR 30 compared to December and amounts to EUR 620 per month for 50 sq. m. m apartment.
When will apartments become cheaper?
For those waiting for apartment prices to fall, the expert has the answer: not everyone will like it
LRYTAS.LT BUSTAS REAL ESTATE
Last year was impressive for the real estate (RE) market: a record number of REAL properties were sold, prices rose at a long-seen pace. Some developers are predicted to be able to move their activities abroad: they are pointing the finger at bureaucracy and laws.
"Lithuanian Morning" TV show "New Day" 2022-01-04 20:43, updated 2022-01-04 20:43
Gediminas Pruskus, head of the Inreal group, said on the "New Day" television show "Lietuvos rytas" that, as in the past year, as this year, one of the main factors affecting the RE market is the huge demand. The explosion in demand seen last year, according to the interviewer, was both the so-called "spring effect" due to the coronavirus pandemic and the fear of inflation among people and institutional investors.
"This explosion led to record sales and record price rises. We are caught up in a new reality where numbers are different from what we were used to," explained G. Pruskus. As for 2022, the key will be whether developers will be able to deliver demand. According to the interlocutor, the desire of developers to balance the market so that demand corresponds to supply, but there are a number of reasons that do not allow to be big optimists. First of all, international trends: the rise in material prices, the rupture of supply chains, the energy problems facing the whole of Europe. "In terms of bureaucracy, we have a problem that a lot of laws have been passed, but there is a lack of substatutory acts, they should be approved in just a couple of months. It is feared that a "bottle neck" will appear at municipal level, when municipal specialists will lack knowledge of how to apply these laws in practice. This will slow down the process, which means that it will become a kind of problem to ensure demand, – my interlocutor. " Basically, I can safely say that prices will not fall, they will only increase. I would very much like growth to be sustainable. If 10,000 people come to Vilnius every year. young people, I would like them to be able to afford housing."
Last year was impressive for the real estate (RE) market: a record number of REAL properties were sold, prices rose at a long-seen pace. Price growth is not beneficial Price growth by tens of percent, according to the interviewer, is not good for developers, as housing affordability begins to decrease. And that's the problem. Even a few years ago, we could boast that we could buy a home in Vilnius for an average salary with a loan. Rising prices are influenced both by energy performance requirements and by legislative changes adopted. G. Pruskus agrees: the existing requirements of the A++ energy performance class basically require certain solutions, for which the house almost does not use energy. On the one hand, this is good, on the other hand, some solutions are still very expensive, and this can again raise prices. "We in Lithuania rushed a little and assumed those classes as if we were a very rich state. Of course, this is a very big challenge for both developers and architects. This makes our work more interesting, makes us look for interesting, creative solutions that I hope will benefit all green policies. We understand that sustainable development is exactly what we are aiming for," he said. The land tax will certainly contribute to the increase in the final price. "If we count, we're talking about seven-digit numbers. One sq. m. m price Land tax can increase by several hundred euros. It's going to feel like developers are now turning heads on how to deal with it. The bigger problem is that land tax stops conversion. If the city government's desire is to compact the city, improve its quality and infrastructure, it comes out that the Land Tax makes conversion very expensive, which puts developers in an uncertain situation. On the one hand, the city authorities want to thicken and return the city, on the other hand, we find ourselves in a closed circle, when everything is becoming more expensive, and because of the cost, it comes out, we are to blame, although we did not want this and asked for a transitional period in order to find ways to live with that tax and find a compromise acceptable to all parties instead of raising the price of housing for buyers," explained Pruskus. Buyers are waiting for what will happen next Recently, lower real real market activity has been observed. "The deceleration is approximately 500 apartments per month. If we sold so much every month, 6000 apartments would be created per year, in 2021 7000 apartments were sold. Buying is slower, but relatively very high. A slower purchase can be called compared to the summer, when 1000 apartments were sold per month. The stoppage of the purchase is also likely due to the fact that developers are not able to ensure demand, there are no new projects, about half of the apartments are bought on paper, the remaining "warehouse" is not as high quality as it was. Admittedly, the price rise, which stands at 25% in some segments, has frightened buyers, we have to accept and watch what is happening. Whether prices will continue to jump, perhaps, you need to wait, perhaps if you are already paying dearly to find a really good home, rather than buying anything on the counter. In the summer, everything was swept away, regardless of anything," explained G. Pruskus.
Last year was impressive for the real estate (RE) market: a record number of REAL properties were sold, prices rose at a long-seen pace. As for the area of housing, it is noticeable that the pandemic has affected people's habits, they have begun to want larger and more comfortable housing, especially since they have had to spend a lot more time at home for a couple of years, it is no longer a place to just sleep. The wishes and habits of buyers have changed, but they do not always coincide with opportunities. "We are faced with a situation where people want bigger homes, but they do not always afford them. Architects and developers need to take creative decisions and create comfortable spaces for living and working in small-area dwellings. Now, when planning an apartment, there is a space for the workplace so that two people can work in the apartment without disturbing each other," commented the inreal manager. According to the interlocutor, developers are not happy with the price increase, although at the beginning everything seemed all right: demand and prices were rising, but then the rising prices of materials and construction work began to chase from behind. It comes out that the price is recorded two years ago, if the apartment is bought from paper, and it is built in a couple of years. In the current situation, in the words of the interlocutor, it is not even clear how much will be able to build an apartment building, because contractors do not dare to give a figure, because they themselves have no idea what the prices of materials will be in a month or two. According to the expert, the major re-developers will certainly not take some drastic measures, they are trying to find compromises with the builders and the lost profits or part of the losses have to be borne by themselves. "Although there have been fears of a wave of contract terminations, I think it will not, unless small developers do. The great developers protect their reputation and will not do so," he says.
Re-developers are dissatisfied: the adopted Law on Land can contribute to the bubble Such ropes have not been in the REAL market for 15 years – what else to expect: connoisseur's comment On the new tax on real development on public land: two opinions on how this will affect the ordinary housing buyer Planning to build houses the architect did not spare good advice: do not repeat the mistakes of neighbors Three years ago to sell 5 thousand. apartments were something incomprehensible over the years, but last year 7 000 apartments were sold. The price increase predicted by G. Pruskus will depend on various factors: internal migration, the arrival of foreign companies in Lithuania, material prices, supply and demand. "I think the carpet will be, but more sustainable, it will want to be managed by all sides. The desire is for people to be able to afford housing, developers want to boldly develop projects without fear that the market could stop. I would very much like prices and the level of supply and demand to be balanced and development sustainable during this year. Inflation is currently extremely high. NT is one of the means to protect against it, investment in real realm is always good. You just have to think about what you're going through, not grab anything. I don't think waiting is a good tactic, those who waited and housing increased by 25% a year, both money and lost. Tip: If you need housing, you have free money, and real realm looks like a reliable investment, and invest at that time," says inreal's manager.

Read more: https://www.lrytas.lt/bustas/nekilnojamasis-turtas/2022/01/04/news/laukiantiems-kada-kris-butu-kainos-ekspertas-turi-atsakyma-patiks-ne-visiems-21950702
The Bank of Lithuania calls for the introduction of a global RE tax, which should apply to all without exception
LRYTAS.LT BUSINESS MARKET PULSE
The bank of Lithuania's tightened initial contribution requirement for non-first home loans will cool the high-risk housing market segment and reduce the risk of over-indebtedness. In many cases, buyers who are leading the market for unpredictable expectations and agitation increase their indebtedness and buy additional housing in order to rent it out or resell it, even though they have not yet repaid a significant part of the first loan. However, in order to prevent the risk of overheating of the housing market as a whole, it is necessary to expand the arsenal of measures.
"Although there are still no significant imbalances in the country's real estate (RE) market, the annual growth rate of house prices of up to 20% signals that the market is heating up. The Bank of Lithuania has already taken measures to cool the segment of the high-risk housing market, but in order to avoid overheating, the attention of other institutions to the topic of the heating RE market is also needed," says Gediminas Šimkus, Chairman of the Board of the Bank of Lithuania. The Board of the Bank of Lithuania has approved amendments to the Responsible Lending Regulations regarding the application of the higher initial contribution requirement for non-first loans and plans to decide in the near future on the requirement of a systemic risk buffer of 2% for the housing loan portfolio of credit providers. According to the Bank of Lithuania, the total flow of all new loans could contract by up to 10 per cent due to the tightened initial contribution requirement and the planned reserve requirement for the home loan portfolio of lenders, while house price growth could be up to 3 percentage points lower.
A doubling of the minimum initial contribution requirement for subprime mortgages to 30% should affect around 40% of first-time borrowers, i.e. this proportion would have to pay a higher initial contribution. Mortgage interest would not be substantially affected by the measures, which could increase by just 0.05 percentage points due to the additional capital requirement. Currently, new home loans are granted on average at an interest rate of 2.12%. It has fallen by 0.25 percentage points since the beginning of last year.
According to G. Šimkus, the sustainability of the housing market would also be enhanced by unpredictable incentives to invest in real realm limited by a universal and socially oriented non-commercial real realm tax. The Bank of Lithuania has submitted proposals to the Ministry of Finance that the RE tax should be applied to the re-tax in its entirety without exception, establishing a bar for the minimum tax-free value of assets, so as not to harm the most disadvantaged residents. This tax should be progressive, i.e. the starting rate should be very low, for example, 0.1% and increase if high-value or luxury RE is managed.
For a few hundred thousand euros or a luxury millionth of REAL, much more significant amounts would have to be paid– it would already be hundreds or even thousands of euros. Such a tax would allow to significantly supplement municipal budgets, and the received funds would be allocated to the management of towns and cities, maintenance and development of their infrastructure.
Another measure is the compulsory registration of preliminary contracts for the sale of unfurnished dwellings. Such a legislative change would contribute to the transparency of the primary market, would allow the Bank of Lithuania and other institutions to monitor in real time the trends of transactions and prices of the primary housing market, the extent of speculative transactions, to more accurately identify the risk of overheating of the housing market and to take measures to reduce these risks. The current environment of increased expectations of reprication creates a medium for speculation on reservations, and the assessment and limitation of this phenomenon could reduce market tensions. The Bank of Lithuania has submitted proposals for mandatory registration of contracts to the Ministries of Justice and Environment and is awaiting their conclusions.
Finally, the sustainable development of the market would be supported by a reduced shadow in the RE sector, for example by legalising the requirement to make an initial contribution or even the entire housing acquisition transaction by means of a transparent order and to limit the settlement of re-financing in cash. Read more: https://www.lrytas.lt/verslas/mano-pinigai/2021/11/22/news/kritikuoja-valdanciuju-sieki-atsisakyti-stazo-skaiciuojant-bazine-pensija-draudimineje-sistemoje-taip-neturetu-buti-21485532



Lithuanians who want to live in their own homes, but who are not catching up with prices, have found new directions: prices there are lower sometimes
LRYTAS.LT BUSTAS REAL ESTATE
Residents are increasingly borrowing not only for apartments, but also for the construction or purchase of individual houses , which has been noticed by bankers for some time. When apartment prices jump by almost 20% per year in big cities, when deciding to settle in a house, no matter where, but with a small own patch of land, or in a city where everything is easily accessible, a significant number of Lithuanians do not hesitate for too long.
It is not cheaper to build, but it does not matter Tomas Sovijus Kvainickas, Head of Investment and Analysis at Inreal, one of those who thinks that non-rising apartment prices have become the main reason to borrow more actively for the construction or purchase of individual houses. As apartment prices increased mainly in the second quarter of this year, especially in April and May. Until then, they did not fall, but grew gradually. "In half a year, no one was able to make the decision to build a house and even more so to build it. People may have a desire to build houses themselves at current apartment prices, but apartment prices have not risen just because they have been actively bought. Of course, that was influenced. After all, if the REAL developer sells apartments much faster than planned, then he can increase the price. Sales may slow down a little, but to a level that is still acceptable. The prices of apartments were significantly affected by the prices of construction works. Depending on the NT project, the sq. m. m price jumped both 100 and 1 thousand. €100 million," explained the expert. The interlocutor pointed out that real estate developers buy large quantities of building materials, order a lot of construction works, and therefore prices on apartment building sites are quite different from for a private person building the most popular 100 sq. m. m area house in Kaunas and Klaipėda or 130 sq. m. m area of the house in Vilnius. That alone, in the opinion of T. S. Kvainickas, does not allow to say that the house has become a cheaper alternative to the apartment. Construction is also cherished by the infrastructure development tax introduced almost a year ago. If re-developers build with a construction permit issued in 2018-2020, they are not subject to the Infrastructure Development Fee. As for individual houses, it is also possible to find plots that are sold already with a building permit, but such cases are rare. In any case, for the builder of an apartment building with 50-100 apartments, the Infrastructure Development Tax will not be as painful as when building an individual house.
Residents are increasingly borrowing not only for apartments, but also for the construction or purchase of individual houses , which has been noticed by specialists for some time. Photo by V.Skaraitis It is noticed that the purchase of individual houses became more and more active after 2013. The number of apartment transactions then grew relatively slowly. And here's a growing number of houses being built every year, for almost a decade. In 2020, the largest number of individual houses were built in Vilnius region. In Kaunas region, by the way, almost the same number of houses are built as in the capital. It is likely that the attractiveness of individual houses will grow even more, although their area, which is one of the main reasons for choosing a house rather than an apartment, decreases every year. If in 2000 to build approximately 200 sq. m. meters of houses, in 20 years their area has decreased to about 136 sq. m. on average– up to 100 sq. m. in Kaunas and Klaipėda. m. Median average area of the apartment – about 50 sq. m. meters, i.e. the houses under construction are still twice as large as the apartments. If it was previously customary to install cellars and garages in the house, which increased the area of the building, now they are abandoned. It is estimated that there are about 900 000 people in Lithuania. apartments, another 50 000. – non-residential premises (hotels, lofts, cottages consisting of almost 50 thousand more). Individual houses – about 550 thousand. "The individual home market accounts in principle for two thirds of the apartment market. If we look at activity, if vilnius city municipality is rejected, the market would be distributed about as follows: one third of it is houses, two thirds of apartments. It is also important that about half of the houses, in contrast to apartments, are built for themselves to live in. Sometimes the developer, having completed the construction of the apartment building, stays the most beautiful apartment on the last floor, but it will be only one apartment in the entire apartment building. The individual home segment is active enough, only to the extent that in Vilnius, when prices are slightly higher, the apartment segment is very strong. Meanwhile, in the rest of Lithuania, the home segment lands little on apartments," commented the interviewer.
Residents are increasingly borrowing not only for apartments, but also for the construction or purchase of individual houses , which has been noticed by specialists for some time. Photo by V.Skaraitis How much has the market been adjusted by the Infrastructure Development Tax, which has been in force for almost a year, which has led to both builders and municipalities breaking the spear? "Let's imagine that if in the capital Pilaitė a new-build apartment sq. m. a meter costs 1000 euros, it is construction work, the price of a plot of land, VAT would be between 900-950 euros per sq. m. m. Developer's net profit would remain 50 euros per sq. m. Pilaitė is not a priority area, so the Infrastructure Development Fee here would amount to EUR 50 per sq. m. m, which means that the real realm developer would be left without earnings. Everything would be solved by increasing the price to 1050 euros per sq. m. m, the buyer would pay a little more, but that amount would not be particularly significant. However, if the price increase fails and the REAL developer is left without profits, he would certainly consider building where house sales prices are relatively low. When building in the Old Town, where land plots are more expensive but sales prices are much higher, approximately 2000-3000 thousand. Eur 100 million per sq. m. m, Infrastructure development fee relatively symbolic – 18 euros per sq. m. Thus, when it comes to prestige housing, the impact of this tax is limited and the economic impact is more significant. As for individual houses, those who build a house for themselves will not overstate whether the sq. m. m will cost 1000, or 1050 euros. Building for $100,000 or 120 000 The amount of the fee is approximately EUR 6 000. This is not very significant," he said. The innovations were resisted, but the residents of Kaunas district came to terms with the very active purchase and construction of houses. As explained by specialists of the Infrastructure Development Division of Kaunas District Municipality, by the end of October more than half a thousand contributions had already been charged. The average amount of one contribution amounts to almost EUR 5,200.
Residents are increasingly borrowing not only for apartments, but also for the construction or purchase of individual houses , which has been noticed by specialists for some time. Photo by V.Skaraitis Since the very beginning of the application of this law, Kaunas District Municipality has been paying great attention to consultations and provision of information in order to make it as clear as possible for both residents and designers how the VRA works and how it is applied. Residents and businesses are interested in the possibilities to conclude municipal infrastructure development agreements, because in such a case not only the free infrastructure development contribution, but also compensation for the municipal infrastructure installed at their expense from the contributions paid by other contributors.
Kaunas District Municipality has an online payment calculator where you can check what contribution rate is applied in a particular territory.
Siauliai does not want a small area of houses for design and construction work, mainly in šiauliai region, engaged Robertas Joniškis for the portal lrytas.lt said that, as his practice shows, people are into small, for example, 80 sq. m. m, the area houses are not looking, unlike in Vilnius or Kaunas, where houses of a smaller area are easier to afford. In Siauliai it is customary to build or buy houses of medium (120-130 sq.m). Also, future settlers prefer a plot of more than 2 or 3 acres, at least 6-7 acres. R. Joniškis agrees: since apartment prices are high, and for a similar price to build a house, although not fully equipped, it is possible, and more and more people are doing it. "Over time, you will create a final, more liquid, product that will have a higher value. In addition, you will have your own area where you can spend your time," my interlocutor says. Although he built a number of houses, the cellars, as far as he can remember, had to be installed in only two. Only people who are not limited by the budget choose the basement. The garage, on the contrary, is still relevant, although it is not at the top of the list of priorities. If there is a garage in the house, it is a great advantage, but if not – a pantry, gazebo or shed is installed. As Robertas said, he started construction not only in Šiauliai region, but also in Palanga. At the same time, he admits – the price of real realm in the resort is certainly not for everyone to bite. On the other hand, there are especially active intermediaries who want to earn a lot. Regions going through a golden age? The Centre of Registers has just announced that according to the annual growth of the number of residential transactions this year, akmenės (annual growth – 60 per cent), Jurbarkas district (41 per cent), Kėdainiai district (43 per cent), Klaipėda city (92 per cent), Kretinga district (41 per cent), Lazdijai district (41 per cent), Šalčininkai district (49 per cent) and Vilkaviškis district (41 per cent) stood out.
Mindaugas Kulbokas, Head of research and analytics group at Newsec in the Baltic region, believes that demand for detached houses in individual regions is due to the COVID-19 pandemic and opportunities to work and study remotely. "Let's imagine a student from Jurbarkas district who studied in Vilnius: he had to attend lectures, so to live in the capital. Now, at least partially, it is possible to learn remotely and live in your own land. This also applies at least in part to people working in the service segment (for example, working in a customer service call center). Districts are becoming a priority for people who appreciate the slower pace of life.
Finally, they clearly and accurately calculated how much housing was expensive in Vilnius per year – impressive Prestigious housing is increasingly bought by Lithuanians using leasing Assessed 10 months in application of the Law on Infrastructure Development: one solution is worrying. Drug traffickers unloaded from the remote Kirtai district continue their activities closer to the center of the capital. Another, but already banal, reason is that families return from emigration to their home towns. As the standard of living grows and the industry expands, there is a motive to return to Lithuania and to their home places – another explanation of the growth of individual houses. And prices in the regions are much more favorable to settle down and expect greater comfort (area, number of rooms). Finally, the proximity of nature sometimes plays a decisive role," he said. Read more: https://www.lrytas.lt/bustas/nekilnojamasis-turtas/2021/11/11/news/norintys-gyventi-nuosavuose-namuose-taciau-nepasivejantys-kainu-lietuviai-atrado-naujas-kryptis-kainos-ten-mazesnes-kartais-21355503
Investment in European RE increased by 21%.
According to Real Capital Analytics (RCA), real estate (RE) transaction volumes in Europe approached pre-pandemic levels in the third quarter of this year. Sales of industrial facilities and apartments contributed significantly to this.
According to the company's latest report, transactions of EUR 64.4 billion were made between July and September 2021. Euro. This is 21% more than in the same period last year, when the dynamics of the RE market were violated by restrictions and uncertainty due to COVID-19.
Total global sales of commercial REAL this year amounted to EUR 202.6 billion. This is an increase of 8% over the nine months of 2020 and 5% less than the average for the same period in 2015-2019. These figures were reinforced by the investment of EUR 41.6 billion in industrial real re in the nine months of this year. Euro. This is 85% more than before the pandemic. Mainly in the capital industry – EUR 14,7 billion Euro – attracted by Britain.
In the third quarter of this year, the apartment market also flourished – sales rose to EUR 14,3 billion. This is an increase of 39% compared to the same period last year. Berlin still leads the way in this sector in Europe, with Berlin in second place – London, third – Copenhagen.
Office sales increased by 9% over the year, but compared to the pre-pandemic average – decreased by 26%.
Britain took the lead in europe in the third quarter of this year in terms of transaction volumes. London seems to have regained its position as the city's leading RE market. It has also become the world's main attraction for international capital, driven mainly by North American investors.
RCA said that the most exclusive re-markets of the year were Sweden, Norway and Denmark, where transaction volumes exceeded pre-pandemic averages, especially in the residential REAL sector.
Tom Leahy, senior RCA analyst, said: "The fourth quarter is usually the most active quarter of the year. At the stage of signing the contract, there are now some very large transactions. And if they are completed, global market activity will become even higher.
However, investors face a number of challenges: rising inflation, the future of the office sector, where core demand – high-end premises, the likelihood that governments will reintroduce restrictions to combat the spread of the virus".
Italian Abruzzo region 'home for 1 euro'
In italy's Abruzzo region, just half an hour away from roccaras ski resorts and Pescara beach, Pratola Pelinha started offering buyers homes for a symbolic fee of €1, writes Idealsta.
The city's current mayor, Antonello di Nino, who took office four years ago, has considered the return of residents to abandoned areas as one of the priorities throughout his term. The municipality was badly affected by the earthquake in Aquila, after which the authorities began to draw up a register of all buildings to be restored.
"We have carried out a census of all abandoned houses in this region. And after a year and a half of work, we realized that there are about 600 uninhabited buildings in the city." – explains Antonello di Nino.
In most cases, it was not possible to find owners of empty houses. Some abandoned buildings were registered in the name of citizens born in 1890, the owners of other dwellings are already dead, and the process of transferring the estate has not even begun. The local authority enlisted the help of volunteers who recorded all such objects on the map and searched for heirs.
The owners who were found were given safety warnings about the security risks posed by the buildings they owned. However, it later became clear that many of them did not burn with the desire to do anything with their abandoned buildings, so the municipality decided to sell them for 1 euro.
As in many other similar cases, buyers who have purchased a property for EUR 1 will have to undertake to renovate it within three years, ensuring the safety of the building. They will be able to receive the so-called "seismic bonus", so they will be able to benefit from special tax advantages when renovating buildings. In addition, the new owners will be able to decide for themselves what – commercial or residential – will be their real estate. The municipality promises not to impose any restrictions on this.
Promotion "Houses for 1 euro" In Italy, it has become quite commonplace. Houses can be purchased for a symbolic fee, but by committing to renovate them, in different regions of the country. Italy's example was followed by Greece and France, which, in order to attract residents to the empty regions, also began to offer to buy or rent real estate for a symbolic fee.
How expensive were apartments in Vilnius ?
Centre of Registers: in 5 years, apartments in the capital have risen almost one and a half times
21 October 2021
Over the last five years, not only the number of apartments built and sold in Vilnius city has increased, but also their prices. Apartments in the capital have become an attractive investment, more and more people have sought and purchased a second or third home, and in response to demand, real estate developers have put new projects on the market. Analysts of the Centre of Registers analysing the dynamics of registered apartment transactions note that in the last 5 years apartment prices in Vilnius have increased on average almost one and a half times.
"Recently, apartment prices in Vilnius have been steadily increasing – average annual price growth was around 7 percent. This means that compared to 2016, buyers currently pay about 40% higher price for an apartment. Of course, Vilnius City Municipality is not homogeneous, it consists of 21 wards, which has its own specific apartment market, development potential and different preferences of buyers. As a result, both the average selling price of the apartments and the average price behaviour for the period considered differ from one ward to another", – says Paulius Rudzkis, data analyst at the Centre of Registers.
Currently, the lowest prices of older construction apartments (those where the transaction was concluded 2 or more years after the completion of construction) in the capital are recorded in the wards of Paneriai, New Vilnia and Grigiškiai – where the average prices of older construction apartments reach about 1.2 thousand. per sq. m. meter and is 35-45% lower than the average for the whole of Vilnius.
The following districts can also be attributed to lower apartment prices: Naujaininkai, Viršuliškės, Vilkpėė, Šeškė, Pašilaičiai, Lazdynai, Karoliniškės, Justiniškė or Fabijoniškės, where apartment prices currently fluctuate around 1.5 thousand. Eur 100 million per sq. m. meter, or 15-20% below average.
More expensive apartments can currently be found in Šnipiškės, Antakalnis or Žirmūnai, where the average price of an apartment will already reach about 2 thousand. Eur 100 million per sq. m. Meter. Well, the highest prices this year are recorded in older-build apartments sold in the Old Town, The New Town or the Beast, where prices fluctuate around 2.4-3 thousand. Eur 100 million per sq. m. meter and is 30-70% above average.
Older construction apartments were most expensive in the New Town, Old Town, Šnipiškės and Žirmūnai
In the last five years, the prices of older construction apartments in Vilnius city have increased from 40 to 70 percent.
"Prices of older construction apartments have increased the most in those parts of the capital where the most changes have taken place in the last few years – the infrastructure was built for new apartment blocks, which in themselves also raised the prices of older apartments, which attracted apartment buyers to the ward. The smallest price change can be seen in sleeping areas, which are structurally dominated by older-build apartments, so high supply and relatively less interest from buyers naturally does not put such a great pressure on price growth", – P. Rudzkis, data analyst at the Centre of Registers.
According to the Centre of Registers, the fastest growth in the prices of apartments of older construction is recorded in the wards of The New Town, Old Town, Šnipiškiai and Žirmūnai – here prices have increased by about 63-67 percent in the last 5 years.
Slightly more modest price growth was recorded in the wards of New Vilnia, Lazdynai, Karoliniškiai, Naujaininkai, Grigiškiai, Vilkpedė, Šeškinė and Paneriai – in these areas, the prices of older construction apartments have increased from 50 to 60 percent in 5 years. Well, the relatively modest price growth was in the wards of Pašilaičiai, Verkiai, Justiniškiai, Pilaitė, Beast, Fabijoniškiai, Viršuliškiai and Antakalnis, where older construction apartments increased by 40-45 percent in five years.
Šnipiškės and Žirmūnai stand out in the market of new apartments
The price dynamics of new-build apartments in individual neighbourhoods of Vilnius are even more diverse, and the most pronounced changes were also observed in Šnipiškiai and Žirmūnai districts.
"New-build apartment projects in the capital are usually developed where they have the highest payback and interest of potential buyers. For this reason, less than half of all vilnius neighbourhoods were used for price analysis, as in others the annual number of transactions of new-build apartments is insufficient for statistical analysis. Nevertheless, the data of the analyzed neighbourhoods show that the leaders in terms of price growth are the wards of Šnipiškiai and Žirmūnai", – says Mr Rudzkis.
In the last 5 years, the prices of new-build apartments, i.e. those whose purchase and sale transaction took place no more than 2 years after the completion of construction, have risen from 25 to 45 percent in the analyzed neighbourhoods of Vilnius city.
The fastest price growth was recorded in šnipiškiai and Žirmūnai neighbourhoods, where the prices of new apartments increased by 40-45 percent. At a slightly slower pace (31-35 per cent), new apartments were expensive in Justiniškiai, Lazdynai and New Town neighbourhoods, while relatively the lowest price growth was recorded in the wards of New Vilnia, Pašilaičiai, Pilaitė and Old Town (25-30 per cent).
Where is the RE overestimated ?
Named cities in the world with the most overestimated RE
The world-famous Swiss bank UBS conducted an annual survey of the cities with the most overvalued real estate (RE). Analysts have singled out those cities around the world where the risk of a "bubble" in the RE market is particularly high. He also mentioned areas where house prices match its value.
The housing market is usually one of the most stable and important elements of any modern economy. The UBS Global Real Estate Index assesses the global real estate market in the long run and monitors the risk of bubbles in cities around the world.
The price bubble, according to UBS, is a recurring phenomenon in real-world markets. The very concept of "bubble" refers to the fundamental and continuous correct determination of the price of an asset, the existence of which can be proven only when the "bubble" bursts.
When assessing cities, the Bank takes into account five factors: the ratio of the price of the object to its income from it, the ratio of the price of the object to its rental price, changes in the mortgage-to-GDP ratio and the construction-GDP ratio, as well as the relative indicator of the value of urban REAL compared to prices in the whole country.
Trends highlighted by the study:
House price growth in the cities of the world analysed accelerated to 6% between mid-2020 and mid-2021. It was the highest double-digit price increase recorded in Moscow, Stockholm, Sydney, Tokyo and Vancouver since 2014. Six of the nine cities at risk of a bubble are in Europe. Meanwhile, no U.S. city has overvalued real estate.
Residents have to take out large loans to cope with high house prices. As a result, the level of home loans has increased significantly in recent quarters.
For the first time since the 1990s, housing in suburban and rural areas is becoming more expensive than in urban areas. The cost-benefit ratio of urban living deteriorated dramatically during the pandemic, as entertainment and shopping became less relevant and offices were abandoned altogether.
Coronavirus restrictions and increased teleworking have led to lower rental prices. In some cities, rents have fallen by double digits.
Cities with the highest risk of a "bubble" in the RE market:
Frankfurt, Germany
Toronto, Canada
Hong Kong
Munich, Germany
Zurich, Switzerland
Vancouver, Canada
Stockholm, Sweden
Paris, France
Amsterdam, Netherlands
UBS analysts have identified only three cities where property prices can be called fair in 2021. These are Madrid, Milan and Warsaw. Dubai has been identified by experts as an undervalued market.
Source: prian.ru
Is this the beginning of a new crisis?
China is already shaken by the RE crisis – the waves that have arisen there can come back to us too: prices are falling, sales are falling
LRYTAS.LT BUSINESS MARKET PULSE
China is facing a real estate (RE) crisis, with more and more REAL developers announcing impending insolvency. First came the news about the problems of the giant Evergrande. But she's not the only one struggling with debt. At first glance, China is far from Lithuania, but the waves of crisis that have arisen there can still affect us.
In mid-September, it emerged that Evergrande, China's second-largest real estate developer, could not cope with payments for debts in excess of $305 billion. Usd 100 million. In an attempt to cover them, Evergrande sold his property. In early October, trading in the company's shares on the Hong Kong Stock Exchange was suspended. It was updated on October 21st. However, as stated by the company, there is 'no guarantee' that it will be able to meet its financial obligations. Evergrande develops 800 projects in 280 Chinese cities. The company's total assets are valued at EUR 350 billion. Usd 100 million. It is estimated that EUR 200 billion will be used to make a financial investment in the 2007-20 Of this amount, USD 1,4 million was used to make a total of USD 1,4 million. apartments that have not yet been built. The company's shares have depreciated more than 82 percent since the start of the year. Evergrande owes more than 170 banks and 120 financial institutions, writes forbes.ru. According to The New York Times, Beijing's attempts to reduce the threat of the company's collapse could hit the RE market, whose growth has recently been one of the main drivers of the country's economy. "We are seeing a very serious decline in the RE market: falling prices, sales and developer activity. All this may slow economic growth in the coming quarters," Arthur Kroeber, CEO of research company Gavekal Dragonomics, was quoted as saying by the daily. "Evergrande's business development since its inception in 1996 has been loan-based. But why did the company manage to survive for more than 20 years, and problems began to arise right now?
In 2021, the liabilities of RE companies in China amounted to EUR 5 trillion. Dollars.
Firstly, china's residential RE market, which flourished on fertile reform soil at the end of the 20th century, has not recovered from the consequences of the COVID-19 pandemic. Market growth gradually decreased: if growth reached 10% in the first half of 2019, it fell to 3.8 per cent in the winter of 2020 and 4.5 per cent in the summer of 2021. Secondly, building materials have become more expensive. Thirdly, the Chinese government has recently increased the pressure on business by ending loans to heavily indebted builders. Evergrande is currently the most credited REAL developer in the world. Its debt is about 3%. China's gross domestic product (GDP), writes forbes.ru. Evergrande is not the only company with debt problems. China's RE market is generally heavily credited. According to economists at financial brokerage firm Nomura Holdings Inc., the liabilities of RE companies in China amounted to EUR 5 trillion in 2021. Dollars. Debt doubled compared to 2016. As a result, evergrande's collapse in china's RE market could have a domino effect, according to Bloomberg experts. According to their data, sales of china's 100 largest REAL developers fell by 36% in September compared to the same period last year. But Evergrande isn't the only one struggling with debt, noted Christina Zhu, an economist at Moody's Analytics. Recently, many other developers have revealed that they have problems with cash flow. They asked lenders for more time or warned of potential defaults. The problems of RE developers can turn into a crisis not only in the financial market, but also in the labour market. Evergrande alone employs more than 3 million people. People. However, China's central bank reassured that the risk of the crisis spreading was under control and That evergrande would be able to continue unfinished projects. Mark Williams, chief Asia economist at Capital Economics, an independent economic research consultancy, estimates that there are still about 30 million people in China. housing for 80 million people. People. This is almost the whole of Germany, cnn.com observes.
In 2021, the liabilities of RE companies in China amounted to EUR 5 trillion. Dollars. The vast majority - about 90 per cent - of new real estate properties in China are sold before they are completed, which economists say means that any failure could have a direct impact on buyers. However, economists note that, by rejecting a few exceptions, many large developers are financially stronger than Evergrande. It is not surprising that Fantasia Holdings and other Chinese RE companies have joined Evergrande, as well as Luminor Bank's chief economist Žygimantas Maurico. "It is not surprising that increased risk makes it increasingly expensive and difficult for them to refinance their existing huge debts. "The Chinese authorities are not showing much enthusiasm for helping REAL developers, fearing an even bigger housing price bubble – house prices in major Chinese cities are already higher than in the world's richest cities, and population wages are still 3-4 times lower, so housing affordability rates in China are extremely poor," he wrote on his account. "On the contrary, the Chinese authorities seek to reduce the debts of RE developers and curb over-construction of housing". Re and related sectors are a huge part of the Chinese economy, accounting for as much as 30% of GDP. The economist pointed out that as the construction sector slows its turnaround, China's economic growth will undoubtedly slow to no longer the usual 6-7%, and, optimistically, in a pessimistic scenario of 3-4%, or minus 3-4%. "As the construction sector slows down, China will also be forced to raise taxes and/or stop investment in public infrastructure, as Chinese regions currently generate about a third of their revenue from land sales to REAL developers. Sales fell by 90% in September," the economist commented.
He believes China's economic slowdown would significantly slow global economic growth, as China generated about a third of global GDP growth. The good news is that the slowdown in Chinese construction, and the economy as a whole, should reduce commodity prices. In addition, Ž.Mauricas hopes that the cooling, if not the collapse, of the Chinese housing market would remind us that house prices may not only rise, but also fall, so this could also cool the Lithuanian housing market. "The direct impact on the Lithuanian economy would be negligible, as China is not an important trading and investment partner for Lithuania. The impact on EU countries would be greater, but cheaper raw materials would potentially offset this loss," the economist wrote. David Poderis, senior economist at the Macroprudential Analysis Division of the Bank of Lithuania, told lrytas.lt that evergrande's case is special as it is the most indebted real-world realm developer in the world. The company's situation is also aggravated by the fact that it goes beyond all three red lines of the indebtedness indicators established by the Chinese authorities last year (the liability-to-assets ratio is less than 70%, the debt-to-equity ratio is less than 100% and the cash-to-short liabilities ratio is above 100%), and the Chinese authorities decided in August 2020 to reduce the level of indebtedness in the country, that Chinese RE developers will have to submit detailed financial statements and meet these established criteria.
At first glance, China is far from Lithuania, but the waves of crisis that have arisen there can still affect us.
The risk posed by Evergrande's possible bankruptcy is worsening financing conditions, and other Chinese RE developers are also facing difficulties in fulfilling their financial obligations. "There are also signs of a wider contagion in higher-risk Asian corporate bond markets, where bond yields are rising. However, Evergrande's debt outside China represents a relatively small part of the company's total liabilities (around €15 billion), while the euro area's links with china's financial sector are small, so the direct impact on the euro area and Lithuania is limited when Chinese RE companies face financial difficulties," poder commented. Decreased investor confidence In the opinion of the Interlocutor, one of the most likely channels through which the possible bankruptcy of Evergrande could affect the euro area and Lithuania could be a decrease in investor confidence and the resulting stock price correction on world exchanges. However, the securities held by Lithuanian financial institutions represent a relatively small part of their financial assets – about 8 per cent, of which foreign securities make up an even smaller share – 3.7 per cent "Therefore, even if Evergrande goes bankrupt and negatively affects not only the Chinese but also the rest of the world's financial markets, direct influence on Lithuania would be limited. In addition, the strengthened supervision of financial institutions and additionally accumulated capital buffers following the 2007-2008 financial crisis would help to reduce the impact of the shock," said a representative of the Bank of Lithuania.
In 2021, the liabilities of RE companies in China amounted to EUR 5 trillion. Dollars.
According to Mr Poder, it cannot be ruled out that the collapse of Evergrande would increase the cost of borrowing in the financial markets worldwide and could be felt, for example, by banks in northern European countries borrowing significantly in foreign financial markets. In such a case, the bankruptcy of Evergrande could indirectly affect lithuanian banks belonging to the nordic banking groups. However, this effect is likely to be limited as the financial links between banks operating in Lithuania and their parent banks have decreased significantly over a decade. In addition, banks operating in Lithuania finance more deposits than before the financial crisis, and they have now attracted more deposits than loans. There is no reliable data "In terms of the potential impact on Lithuanian RE companies, the financial situation of RE operations and construction companies in Lithuania is good, companies are indebted much less than Chinese RE companies. A good financial situation for companies operating in the RE sector would allow companies to continue operating even in the event of a shock in the RE sector," predicted D. Poderis. Mindaugas Kulbokas, head of the Research and Analysis Group of newsec, an international group of RE companies in the Baltic States, did not paint a dark scenario.
On the Hong Kong stock exchange, trading in Evergrande shares in China's RE and construction sectors contracted for the first time since the start of the pandemic (1) "Imagine a communist China where everything is governed by orders. I think they're going to solve their internal problems with some order, they're going to throw money in. Another thing that foreign investors may have invested there is that their funds may burn. However, I do not see a global problem. In my personal opinion, the biggest problem is that we do not have reliable data on China. The information is dosed and given as they wish, so drawing conclusions from it would be wrong," said Kulbokas.


Initial deposit may increase when buying Property
NT market offers to cool down twice as much as start-ups for second home buyers
On 28 September 2021, at 10:36 a.m., The Bank of Lithuania proposes to tighten the initial contribution requirement not for the first home loans, but for credit providers to apply an additional capital buffer of 2% to the housing loan portfolio, announced Gediminas Šimkus, Chairman of the Board of the Central Bank, on Tuesday.
It is planned that the new requirements could enter into force on 1 January and 1 July 2022 respectively.
G. Šimkus taught at the press conference that measures to prevent the heating of the RE market were taken after assessing the situation in the housing market and the rapidly growing volume of lending for house purchase.
"We see that some macroprudential policy measures are needed," he said.
The Bank of Lithuania proposes to strengthen the creditworthiness requirements provided for in the Responsible Lending Regulations for those who take out home loans already having other outstanding home loans – from 1 January next year it is proposed to reduce the ratio of the maximum amount of credit allowed to the value of mortgaged real estate (LTV) to 70 per cent.
The Bank of Lithuania also intends to introduce a sectoral systemic risk buffer (SRR) of 2% to housing credit providers (banks and groups of central credit unions). Systemic Risk Buffer) rate for the home loan portfolio. This capital requirement would be supplemented and applied on a similar principle as the countercyclical capital buffer (ACP) rate, but the capital buffer would be calculated not from the size of all exposures, but from the size of the exposures to natural persons in Lithuania that are related to real estate collateral. It is envisaged that the reserve requirement would not apply to institutions with a very small portfolio of home loans in the sector, i.e. less than EUR 50 million. Euro.
The scale has increased
According to an article by Young Karmelavičius, Mantas Dirma and Giedrius Stalenis, specialists of the Systemic Risk Modelling Division of the Bank of Lithuania, the number of second home loans increased during the COVID-19 pandemic.
"The second home loans amounted to EUR 166 million between January and August 2021. 12% of the flow of new home loans granted and about 10-11% at the end of 2019 and 2020.
During the pandemic, the share of second home loans increased almost throughout Lithuania, and the biggest jump – from 9 to 16 per cent – is in Klaipėda County. This trend can be attributed to the purchase of investment housing or housing for recreation, for example in resorts," the authors write.
According to specialists, historical data show that second home loans tend to be riskier than the first, even taking into account the different characteristics of the borrower and the loan.
"Micro-level credit risk-based models show that, in view of the development of an adverse economic scenario, households with other recently taken out and low amortised home loans would need a slightly higher initial deposit of at least 16-24 % of the value of the collateral assets when taking out the second home loan. A requirement of this size would ensure that the total credit risk of a household with two home loans would not exceed the credit risk of the same household if it had a single home loan. However, in the case of additional macro-level risks to financial stability, where housing investment with a second loan contributes to the development of imbalances in the housing market, it may also be appropriate to make a stricter initial contribution level requirement for second loans," their publication reads.
Three more measures
G. Šimkus reminded at a press conference that the Bank of Lithuania had submitted proposals for registered preliminary housing acquisition contracts to the Working Party on The Reduction of the Shadow Economy.
"This is an important tool to gather more information when the initial sale of housing takes place. This would allow better measures to be built, to contribute to transparency, to avoid the possibility of tax avoidance," he said.
Another named measure is to limit the ability to pay for RE in cash.
"It is worth resuming this debate. The RE tax is also under consideration. It is a source of revenue for budgets, but it may also have wider implications. This is a stabilising role for the RE market. We want to emphasize this role – that when the state builds and discusses this tax, it will focus not only on budgets, but also on the possible functioning of the RE market," said G. Šimkus.
The Head of the Bank of Lithuania noticed that only 40% of housing acquisitions take place with loans, which is 60% of the value.
"Those who borrow more to buy a home are in cities where loans are needed. Roughly speaking to half of the buyers, this will not work at all. It is a tool for the riskiest part, those who take out loans for investment purposes," said G. Šimkus.
G. Šimkus said that the measures presented are supported by market participants.
"We can talk about design, but there is an understanding in the market. The fact that we are now going out and starting to talk about it does not mean at all that the market participants themselves… In my opinion, it would be wrong, on their part, if they closed their eyes and introduced more lenient requirements specifically to speed up.
Now comes to the credit institution, asking for a loan, and that credit institution, knowing that the requirements will be tightened, specifically forsesize lending in order to lend. That would be an example of non-cooperation.
However, this is about 12% of the loan flow, which is a small part. In addition, it is not aimed at undercutting RE prices, the ability to borrow, but rather at helping to prevent risks in those lending segments where the risk is higher," said the Head of the Bank of Lithuania.
G. Šimkus noted that the Lithuanian RE market is currently "at the beginning of heating, heating". "This is the same time that institutions have to start acting, responding to risks," he said.
Warns of a changing rental market – if this continues, there will be trouble Predicting when prices will fall.
With real estate (RE) prices growing above 15 per cent, there are fears of an equally rapid price hike in the housing rental market. While REAL brokers say that the current price growth is seasonal, the economist warns of new trends and potential risks.
According to Tom Sovijus Kvainickas, Head of Investment and Analysis at Inreal Group, this year's price changes are difficult to compare with last year, as statistics have been distorted by quarantine processes such as reduced short-term rentals. Analysis of the data shows that, on average, housing for 1-4 rooms has increased by 80 euros since last year. "Last year the median price was 520 euros, this year – 600," T.S.Kvainickas calculated. The RE expert stressed that segments should be taken into account when comparing prices. According to him, in individual segments the price of housing has risen by about 10%, but there is also a significant increase in prices on rental housing portals. The most expensive rent in the Old Town – the rent of a two-bedroom apartment in 2020 amounted to 650 euros, and this year it cost a whole hundred more. In Antakaln, renting a two-bedroom apartment was expensive on average 80 eur. from 550 eur. last year to 630 this year , in Pilaitė – from 450 to 500 eur., while in the New Town it remained stable and reaches 600 euros for a two-room apartment.
According to Žygimantas Maurico, chief economist at Luminor, changes in house rent prices are strongly driven by rising wages, a gradually professional rental market and rising expectations of tenants. "The rental market in Lithuania is specific because it is not fully formed, therefore statistical price growth may be much higher than the actual one. Many landlords legalise, pay taxes, some homes are adapted directly to rent, and there are higher requirements. We move from the "bobby" market to the professional one. As quality rises, so does the price," the economist said. According to him, the current price growth is a big surprise: "The flows of expats and workers from third countries have been muted, inbound tourism has been significantly lower this year than last year. Price rises, given all these circumstances, are quite rapid." With real estate (RE) prices growing above 15 per cent, there are fears of an equally rapid price hike in the housing rental market.
Housing in Vilnius for the price of an apartment in Austin Ž.Mauricas warned that the major cities of the world are currently competing for workers, and the main competitive advantage becomes the rental price of housing. This trend is particularly pronounced in the United States (USA). A large part of the U.S. population leaves New York, Washington, Seattle, where the cost of housing per square meter reaches 4-9 thousand. 1800 euros and goes to Austin, Phoenix, Dallas or Atlanta, where a square meter costs 1800 euros. "Vilnius is currently more expensive than Austin." We don't have Tesla, but we have prices," said the economist. If Vilnius gets more expensive, according to Ž.Maurico, we will lose our international competitive advantage: "If we want to attract IT companies from Belarus, we have to find rental housing, which is difficult for us so far. If they do not find apartments at a reasonable price, they can go to another country".
Marchant Mauric. The increase in the number of clients from Belarus is also noticed by real estate brokers. This, they say, does not allow oversupply to develop. "In the absence of Belarusian professionals, people renting a home for EUR 550 would have to lower their prices in order to be able to compete more easily. In this case, the difference between more expensive and cheaper housing would be reduced. Since there is movement in all segments, they do not put pressure on each other, therefore, larger price differences are maintained," explained T.S.Kvainickas. According to Mariaus Čiulada, Head of the Old Town Office at Oberhaus, Belarusian specialists are focused on 2-3 room housing and are willing to pay 500-700 euros for it, so they do not compete with students for housing. Winter price falls House rental prices depend heavily on the season. According to REAL specialists, the increase in rents is observed every year in the period between Grassy and Ghosts, and in winter prices fall. "If you do not rent in the winter, then you have to pay the utility bills yourself, so the price decreases. If they see that expectations have been raised too much, maybe the price will adjust. Such double-digit growth can do a disservice in the long term," explained Mauricas. He also noticed that the real estate market in Lithuania is starting to change, which, according to the economist, can have long-term consequences.
Most rents were expensive in the Old Town. More houses than apartments "The number of home transactions is currently higher in Lithuania than in apartments. This will give impetus to the emergence of the home market, because at the moment we do not calculate house price statistics, only apartments. This will also lead to urban sprawl. There will be unprecedented suburban growth in major cities. The municipality has sought to invite more residents to the centre, but the movement from it will be greater. Here we can boil porridge, because the infrastructure is not developed – there is not even a screw-up to Tarande," the economist said. According to the economist, Lithuania may eventually face the fate of the US and Australia. Due to the extremely expensive plots, developers will start to build ultra-small square apartments in the city center, which will be intended for short-term rent, and families will move to the suburbs. "But the suburbs are not cleaned up with us. There could be a lot of challenges in the near future," the economist warned. Undeveloped highway infrastructure. Photo by T.Bauro We will not take over the German model Although real-time prices are soaring, we will not take over the German model, where most people do not buy their own home but rent it for life. "One of the foundations of liberal democracy is private property. When people do not own property, they have strange ideas, such as the referendum in Berlin on 29 September, which will decide whether to expropriate housing from the landlord, because rents are supposedly rising very rapidly. I would not like such a model in Lithuania. Berlin is impoverished because when there is no private property, a person has no interest in improving the environment. However, in Lithuania such a scenario is unlikely, as Lithuanians give priority to their own housing," said Ž.Mauricas. Whether Finance Minister Gintarė Skaistė's proposal to tax RE will help to manage rising prices is not in dispute between economists and brokers. Mauricas told News Radio that real taxation is a sustainable way to generate additional revenue into the budget, but RE experts said it was important to know the level of future taxes at this time. "The question of how large it will be is symbolic, increased gradually. I hope that there will be no drastic introduction of taxes. Finally, the question of where this money will go – to the general boiler of the state budget, municipalities, improvement of streets or infrastructure", – considered M. Čiulada. T.S.Kvainick also told him: "When it comes to 1-2%, it's difficult to answer what the actual impact will be. The value of the property is taxable on the taxable amount. The rateable value often does not correspond to the real market value. This is very characteristic of new-build housing. If there are many new apartment buildings in the district, but there are also old construction buildings, old construction reduces the tax value – new apartments are diluted with old ones and their tax value decreases. Identified what and why the best-selling dwellings are at the moment – a new approach to REAL Trying to save is caught in the trap of fraudsters: by agreeing on renting a home on the Internet, they are left without money and without housing New buildings, which are more expensive on the market but not so much more expensive from a tax point of view, are relatively low in tax. There is a limit where for some the fee is negligible and for others it is significant. For those who live in older housing, the tax feels faster than living in new housing. A small fee common to everyone would be easy to administer and would not cause stress, and when exceptions arise, different rates, again, if there is an exception, there is also a way to circumvent it."

Read more: https://www.lrytas.lt/verslas/rinkos-pulsas/2021/09/23/news/perspeja-apie-besikeiciancia-nuomos-rinka-jei-taip-ir-toliau-bus-bedu-20772553
Proposed changes to conditions for young families to buy their first home in the regions
In order to make it easier for young families to obtain their first own home in the territories of the country's regions and greater clarity of legal regulation, the Ministry of Social Security and Labour has prepared amendments to the law shortening the period after which the young family will no longer have to repay the grant received if it wishes to sell the home. The conditions for issuing certificates confirming the right to a financial incentive for young families purchasing a first home are also being improved, the report says. © DELFI / Mindaugas Ažušilis "Low birth rate, emigration of young people abroad, migration to the country's cities – a daily routine of regions. We believe that the amendments to the law will make it clearer and easier for young families to get a financial incentive to buy their first home in the regions, thus contributing to the recovery of the regions," says Monika Navickienė, Minister of Social Security and Labour. The deadline is shortened, the conditions are eased Under the current regime, if a young family has returned the housing credit for the purchase of their first home to the lender before 10 years have passed since the conclusion of the credit agreement and wishes to sell it, it must repay the received state subsidy for the purchase of the first home. In order to facilitate changes of residence for families, adapting to changing needs of the labour market and other life circumstances, the said time limit is reduced from 10 to 5 years, that is, if a surviving family gives credit and sells a home for at least five years, it will not have to repay the state subsidy. The draft law also proposes to expand the list of cases in which the subsidy is not to be repaid and to further establish that the grant does not need to be repaid if five years later the aim is to change housing to a larger one in the same municipality, in cases where housing is too small according to the housing benefit area of the Housing Support Act per family member, or if there are persons in the family, which require a larger area, for example as a result of an increase in family conditions or the improvement of conditions for disabled persons. It is also proposed to supplement the provisions of the Law and to provide that in cases where a dwelling is sold under enforcement or in bankruptcy proceedings of a natural person, the requirement for repayment of the grant received does not apply. In this way, contributing to the state would alleviate the situation of families in a financial disadvantage and prevent them from making it worse. The conditions for issuing certificates are being improved According to the current procedure, the certificate issued by the municipality regarding the right to a financial incentive for the purchase of the first home is valid until 31 December of the current year at the latest. Practice shows that families who receive such a certificate at the very end of the year are not able to cope with all the formalities in order to purchase a home and receive a financial incentive, or are subject to an additional administrative burden on families in order to apply to credit institutions during the period of validity of the certificate. It is proposed to waive the provision that the certificate is valid until 31 December of the current year and to establish a uniform period of validity of 15 calendar days. This would ensure the principle of equal treatment for all families regardless of the date of issue of the certificate. Prevention of abuse It is proposed to provide that, in cases where housing is purchased from a legal person, if a member of a young family or his or her close relative is the sole participant in that legal person, the young family would not be entitled to a financial incentive from the State for the purchase of housing. This would avoid abuses where financial incentives benefit mainly close relatives of a young family, who are the only participants in the legal entity from which the housing is purchased.

Read more: https://www.delfi.lt/verslas/nekilnojamas-turtas/siuloma-keisti-salygas-jaunoms-seimoms-isigyjant-pirmaji-busta-regionuose.d?id=88238643
Is this the beginning of the RE crisis ?
The head of the Chinese RE giant on the verge of collapse promises to resume work (1) ELTA on September 21, 2021 at 08:47 aA The head of Chinese real estate development giant Evergrande, who is sinking in debt, said he hoped the company would "soon overcome the darkest moment," state media reported on Tuesday. Asian stock markets, meanwhile, are panicking that the conglomerate may no longer meet its financial obligations. Evergrande © Scanpix/ Reuters The troubled RE development company is trying to reassure angry home buyers and investors even though its debts exceed $300 billion. dollars and it fluctuates at the brink of collapse. Xu Jiayin, who founded the company in 1996, said in a letter to employees on the occasion of the mid-autumn holiday that he "firmly believes that Evergrande will soon be able to overcome the darkest moment," state newspaper Securities Times reported. He went on to say that Evergrande would resume work and production at full capacity, ensure the completion of the buildings and "assume responsibility towards home buyers, investors, partners and financial institutions." In the letter, Xu also thanked employees for their hard work on the occasion of the public holiday. Hong Kong and Tokyo shares fell during morning trading on the exchanges, fearing the company's collapse and potential impact on the economy, and other real estate companies were also in danger. The Evergrande crisis at the company's offices in China has even led to typically rare protests in which investors and suppliers demanded their money - some of which claim the company owes them a million dollars. Earlier this month, the company admitted it was under "enormous pressure" and may not be able to meet its obligations.

Read more: https://www.delfi.lt/verslas/nekilnojamas-turtas/ant-zlugimo-ribos-atsidurusios-kinijos-nt-milzines-vadovas-zada-atnaujinti-darba.d?id=88235943
What do photos of NT ads hide? Don't be fooled!
Today, the search for a dream home begins with photos. It is likely that if you browsed real estate ad sites, you were repeatedly seduced by stunning views of cosy, wood-fired fireplaces, luxury marble baths or sliding door-closing home offices. However, not everything is as beautiful as it seems in the photos.
It turns out that some of the home elements that look great in photos are a lot of trouble when it comes to using them daily, constantly cleaning and maintaining them. Often they do not work as well as one would expect. So go to the online dream home hunt with your eyes wide open.
Here are 8 things that especially decorate photos, but are not particularly attractive in everyday life.
1. Wood-fired fireplace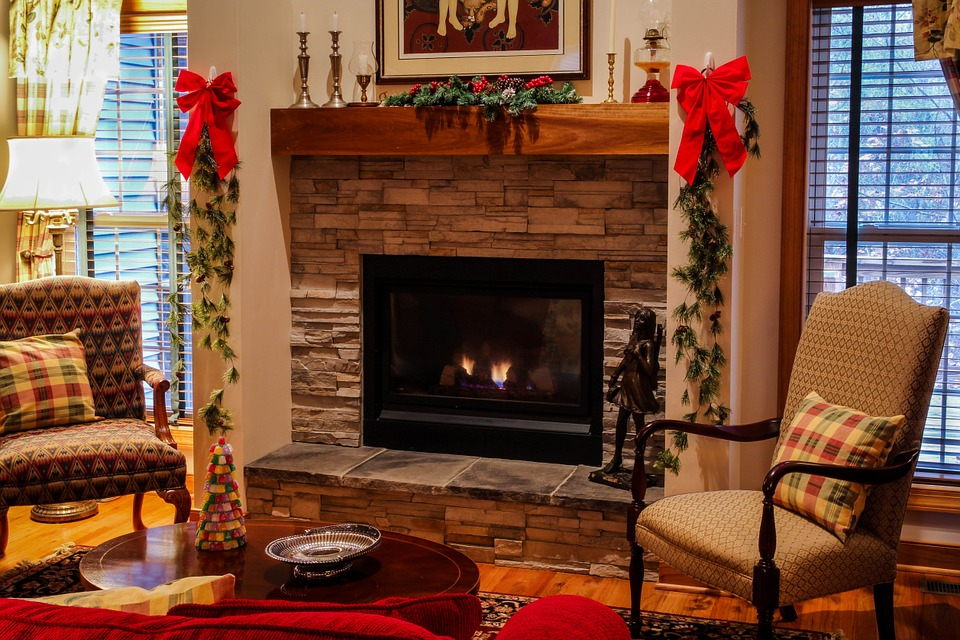 Photograph: pixabay.com
When we see the fireplace in the photo of the real estate ad, thoughts immediately begin to revolve around cozy winter evenings, with loved ones allowed to near the gaping fireplace. However, most homeowners stop using fireplaces already after the first year, as this requires a lot of work (to prepare firewood, bring them and constantly throw them into the fire) and create a large mess (ash, splinter of firewood). If the fireplace has been poorly summed up or unattended as needed, bad traction can lead to smoke coming from it, which will knock not only the decoration of the fireplace, but also the walls or ceiling of the room.
2. Sliding doors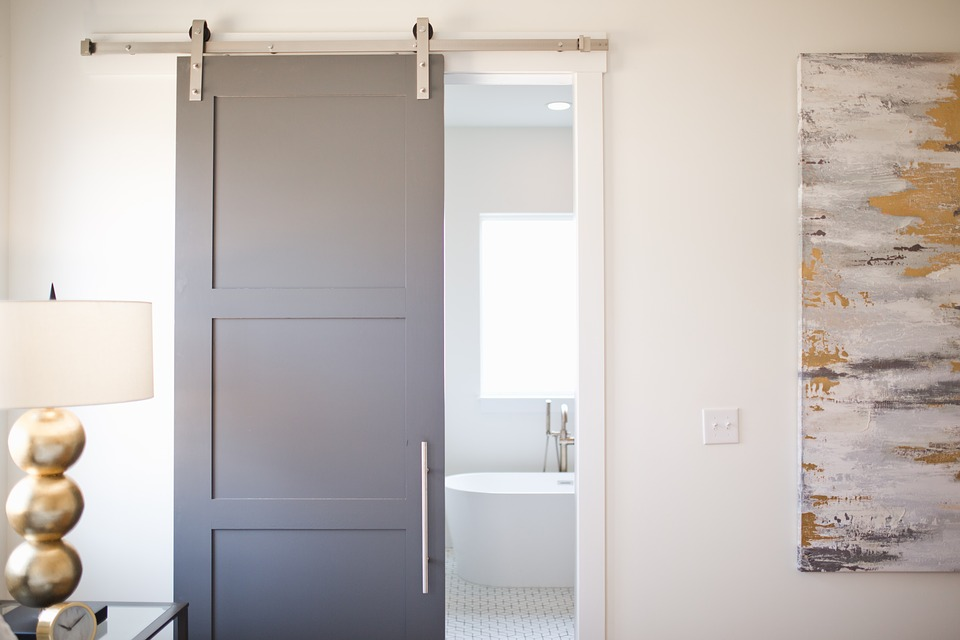 Photograph: pixabay.com
Sliding doors in photos always look charming. Such doors are a great way to save space by separating two adjacent rooms. However, if you are a home buyer, be careful. In many photos, sliding doors hide the workplace, laundry or bathroom. In real life, very often they do not work as they should. The reason for this: sliding doors hanging on sliders do not settle into the door frame, so there is little inhibition of sounds, which can be a significant problem.
3. Bath with open legs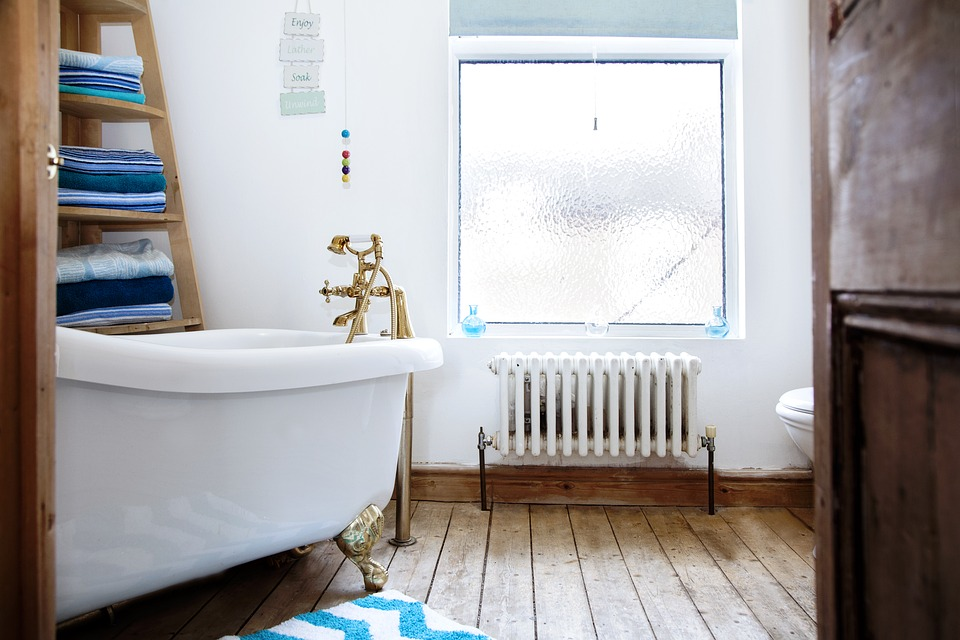 Photograph: pixabay.com
Is there anything more romantic than a bath on your feet? But in reality, such a bath works perfectly if there is a shower nearby. If you want to take a shower in the bathroom, it's not much fun to be twisted into a cocoon of bathroom curtains that will keep going to the bathroom and stick to your body.
it is also important to pay attention to how the bath is placed in the room. If it is squeezed into a corner or comes into contact with the wall, as often happens, it will be difficult to clean both under it and around the bath.
4. Wood siding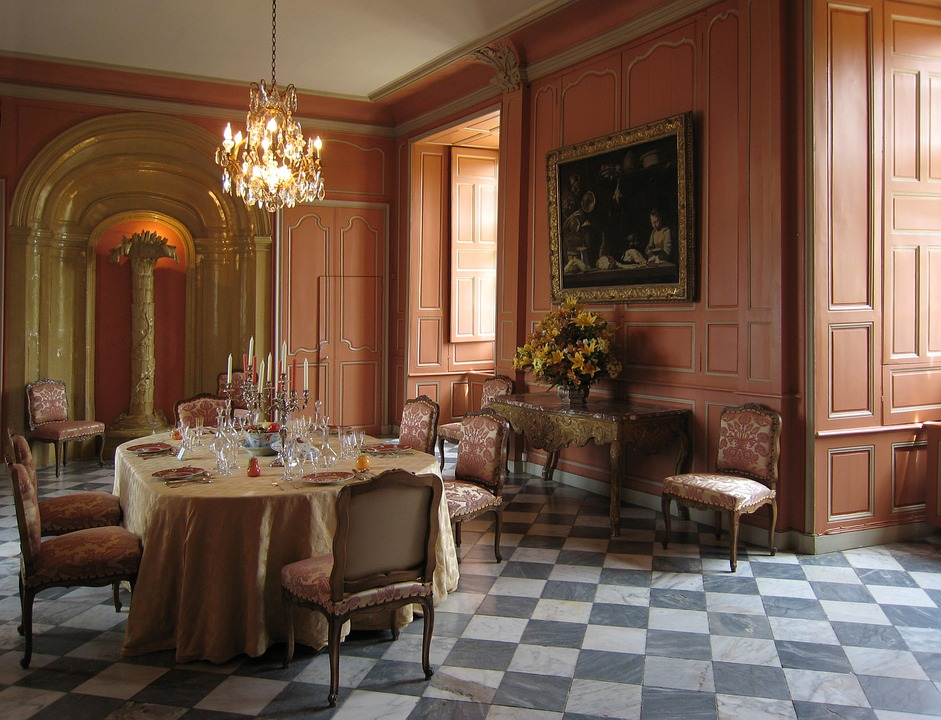 Photograph: pixabay.com
Nature lovers often like rustic interiors with lots of wooden siding. But in fact, the rooms decorated with wooden siding can be dark and gloomy. Therefore, when choosing a similar dwelling, pay special attention to lighting. Here should be perfectly combined natural lighting with ceiling lamps, recessed light sources and directed chandeliers.
5. Lamps with open lights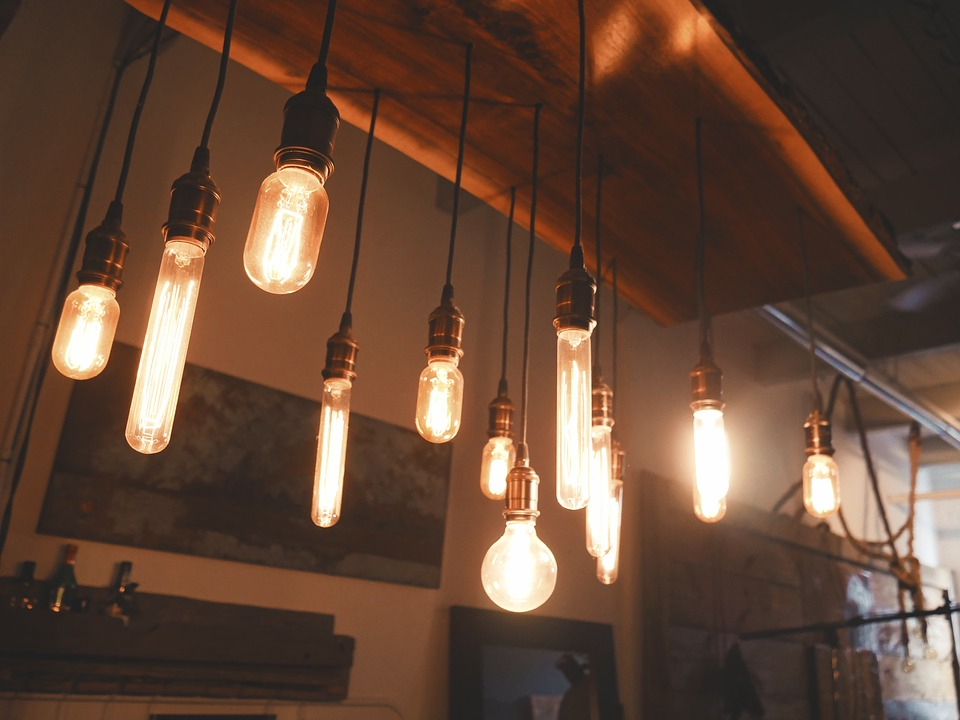 Photograph: pixabay.com
Isn't Edison's obsession with light bulbs over yet? Of course, such bulbs are a quick way to add a vintage accent to an ordinary room and in photos they can look intriguing, but in reality they do not give enough light. In addition, they are very difficult to clean.
6. Dark walls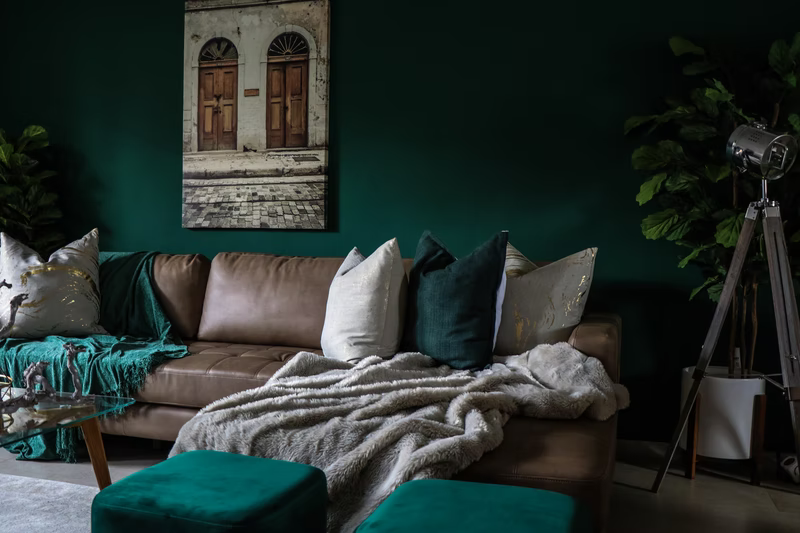 Photograph: unsplash.com
In the photos, the dark walls look dramatic and there may be some diversification for the eyes after the masses of white wall variations in the ads. However, in real life, such walls may not impress you and may even look quite bad.
Such walls must be perfectly smooth, otherwise all the shortcomings will become apparent. A common DIY error is to use glossy paint on a wall panel or plaster. Glossy paints highlight each imperfection more than matte ones and in some places the gloss may vary.
In addition, like wooden siding, dark walls absorb the light of the room. So, make sure that the room has well-matched natural lighting, ceilings and targeted chandeliers. In addition, table lamps fit perfectly in such a room, since weak lights in a dark room look very seductive.
7. Padded or cobbled entry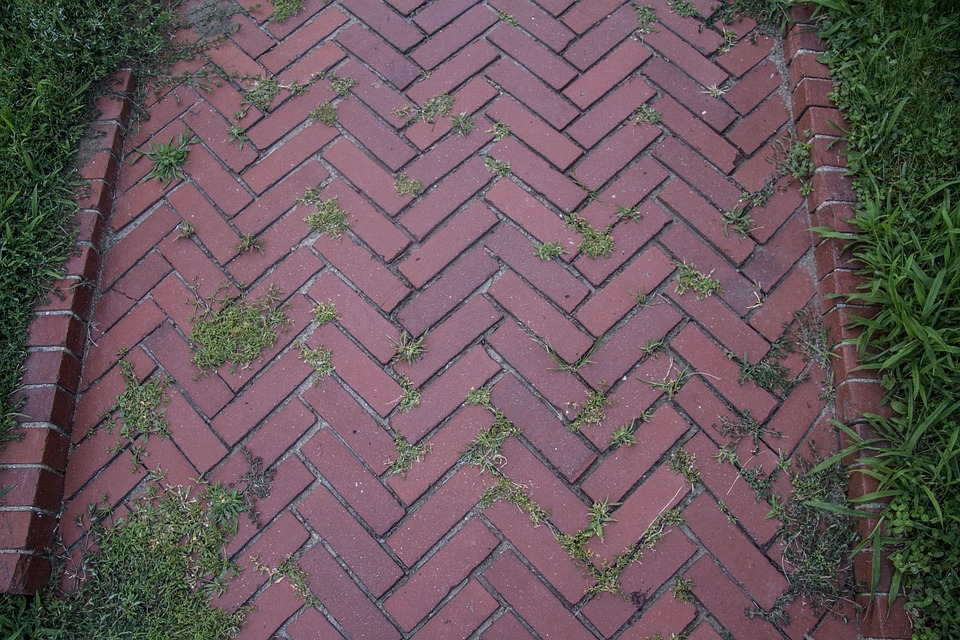 Photograph: pixabay.com
Padded or cobbled entry undoubtedly provides attractiveness. But before choosing such a house, ask yourself if you are ready to do all the necessary maintenance work so that the pads do not fade from the sun or that there is no grass between them.
If you are going to buy a house with a pad-based entrance, be sure to ask how the pad laying work was carried out. It is important that the best and most modern methods are applied when laying pads. If the pads are not placed in a faulty way, the ice generated by the negative temperature may rise over time and the road or yard will no longer be smooth.
8. Marble (or marble imitation tiles)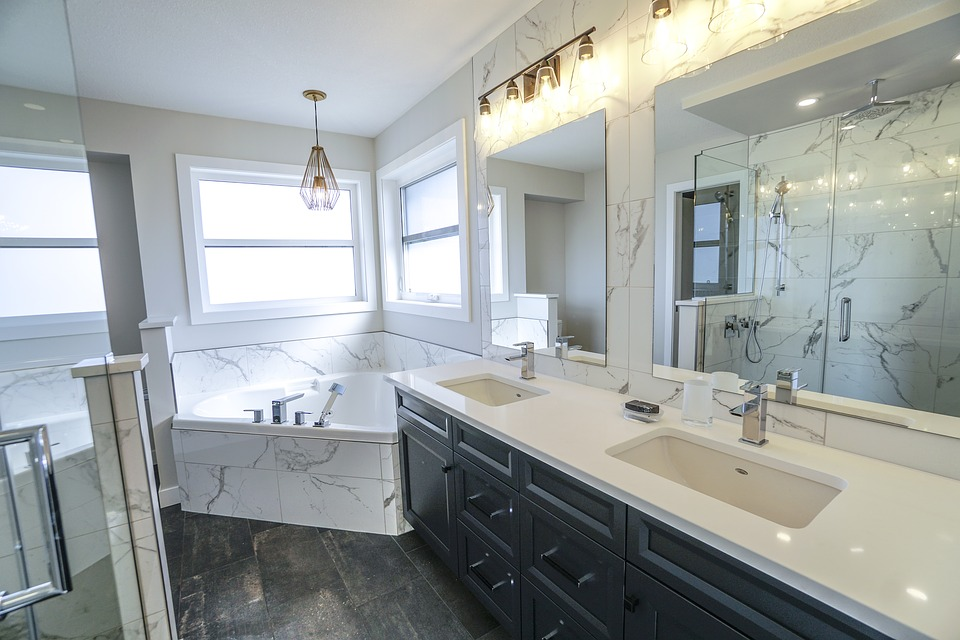 Photograph: pixabay.com
Marble is used in the kitchen or for wall decoration of the bathroom, everyone likes it very much. In the photos, it looks great. But in real life, marble is suitable only for two types of people: strange-order manjac and those who like plaque formed due to oxidation over time.
Marble-imitating porcelain tiles are often chosen as a cheaper and less maintenance-intensive marble substitute. They also look great in photos, but they don't always look as good when you look closer or after a while. To obtain the effect of solid panels, you need to minimize the seams between the tiles and use putty that corresponds to the color of the tile. But over time, it darkens, highlighting the contours of the tile.
Source: realtor.com
Before you decide to buy a home – bankers' advice on what is most important to pay attention to today LRYTAS.LT
With recent buyers returning to the habit of buying a residential home from drawings, banking market experts see potential consumer future financial problems as far less likely compared to the 2008 economic crisis. In addition, savings that have reached record highs during the pandemic in some cases make it possible not to borrow and buy a home for cash.
Julius Ivaška, Director of the Commerce Department of Medicinos Bankas, says that the housing market has been held hostage for several reasons, including the coronavirus pandemic, which has allowed larger personal financial reserves to be built up.
"The pandemic has increased the demand for residential real estate, because in 2020 there was really an unexpected amount of work to do from home, so I wanted to "renovate" the home office, buy a more spacious home or move closer to nature. Even during the pandemic, salaries and bank accounts grew, so it is not surprising that money is diverted to one of the most popular asset classes in Lithuania – residential housing. A much more important question is how healthy and resistant this segment is to so-called bubbles," says Julius Ivaška. According to the Bank of Lithuania, at the end of July, the value of housing loans issued to residents of the country amounted to EUR 9.8 billion. In 2020, when it amounted to EUR 9.1 billion at the end of 2020 and EUR 8.4 billion at the end of 2019. Euro. The initial contribution is that more than a few per cent of the housing market, which boiled over more than ten years ago, has claimed "casualties" in the wake of the crisis. As some home buyers failed to meet their obligations, the homes they bought returned to the banks at the peak. According to J. Ivaška, the bar for granting the loan is currently well raised and allows home buyers to better prepare for a life investment. "In this respect, the situation does not remember 2008 – it is now really more difficult to borrow, because in 2008 it was only 5% of the initial contribution, and now it is required to be 15%. In addition, another indicator is important: a sustainable ratio of at least 40% of loan instalments to sustainable monthly income. Thus, people applying for a home loan are already coming to the bank with a little more experience and knowledge in savings and personal finance management, more objective assessment of their capabilities and a better idea of how long-term financial obligations will have to be fulfilled," notes Julius Ivaška. According to him, respectively, the quality of banks' housing loan portfolio due to the application of responsible lending provisions is currently significantly better than in 2008. Banks lend more cautiously – assess the sustainability and adequacy of customers' income, a smaller proportion of customers have more than one home credit, and the maximum loan term is shortened. "Therefore, it is likely that even if the Lithuanian economy pauses or faces difficulties, the bank's housing loan portfolio would remain sufficiently stable in terms of quality," julius Ivaška predicts. Active Vilnius and cash on the seafront It is in the country's big cities and on the seaside that the purchase of housing from drawings is currently monitored. According to J. Ivaška, this is how buyers rush because of the rising cost – rising costs of materials and raw materials and rising wages of builders to record rising house prices. In turn, shoppers also feel stronger as their salaries rise and expectations are good. "We issue the largest number of loans for house purchase in Vilnius, which accounts for about 40% of the funding provided. Other major cities are active: Šiauliai, Panevėžys, Klaipeda, Kaunas. Although transaction statistics show that there has been a significant increase in the number of REAL transactions in Palanga and Neringa, we do not feel the activity on the seaside or in resort towns. It is likely that often housing is bought here from savings," says J. Ivaška.
According to J. Ivaška, when making a decision on the purchase of real-time housing, it is worth noting that the residential REAL market is currently significantly heating up. "Before deciding to purchase a home, it is necessary to know that if there is not enough own money for such a purchase, the bank will want to see evidence that both the initial contribution has been sufficient and sufficient to meet its obligations. The lessons of 2008 are learned and surely no one wants the script to happen again at that time," says Julius Ivaška, Director of the Commerce Department at Medicinos Bankas.
Centre of Registers: The RE transaction market closed in lower gear in the summer on 6 September 2021.
The last month of summer this year in the real estate (RE) transaction market was characterised by lower activity than the previous two summer months. This may have been influenced both by the holiday season and by some fading expectations of buyers about the future, the analysts of the Centre of Registers, who analyse registered real-life transactions, report. Nevertheless, the total number of full-year transactions this year is one third higher than last year.
During the eight months of this year, a total of 106.5 thousand people were registered in Lithuania. REAL purchase and sale transactions. This is even 37% more than in January-August 2020, when 77.7 thousand people were registered. NT transactions. Compared to the similar period of 2019, when about 84 thousand people were fixed. NT transactions, this year's result is a quarter higher.
In August of this year alone, 12.9 thousand people were registered. NT transactions – 9% more than in August last year, but 13% less than in July this year.
"The RE transaction market, which has been steadily growing at a steady pace since spring this year, ended the summer in lower gear – the fixed number of registered transactions in all categories was lower than before. In part, this may be due to the fact that August is traditionally a summer holiday time, when most plan trips and think about rest, rather than buying housing or land. Despite this slowdown, this year's overall result in all re-NT object categories is about a third better than last year, which was marked by pandemic and quarantine restrictions", – speech by Paulius Rudzkis, Acting Head of the Data Solutions and Analysis Department of the Centre of Registers.
This year, 26,000 people were registered throughout Lithuania. apartment sales – 31% more than in the eight months of 2020, when almost 20 000 people were registered. apartment sales (January-August 2019 – 23.4 thousand), and in August of this year alone – 3 000, or 5% more than in August last year, but 16% less than in July this year.
A total of 9.2 thousand people were registered in Vilnius this year. transactions, or 29.5 per cent more than in the corresponding period last year (January-August 2019 – 7.8 thousand), Kaunas – 3.6 thousand, or 23% more (2019 – 3.3 thousand), Klaipeda – 2.4 thousand, or 56% more (2019 – 2.2 thousand).
Over 10.5 000 people have been registered across the country in this year. individual residential sales – 36% more than in January-August 2020, when more than 7.7 thousand people were registered. individual home transactions (January-August 2019 – 7.7 thousand). It was only during August of this year that 1.4 thousand people changed. residential owners, or 8% more than in August 2020, but 13% less than in July this year.
Almost 54,000 people have also been registered across the country this year. changes in the owners of land plots. This is 41% more than in the January-August 2019 transactions (January-August 2019 – 40 thousand). In August alone, 6.7 thousand people were registered. land transactions, or 11% more than in August 2020, but 11% less than in July this year.
More information on the dynamics of RE transactions can be found on the Here.
Additional information:
While investigating the activity of the Lithuanian real estate market, the Centre of Registers summarises the data on real estate transactions, which include purchases from natural or legal persons, auctions, leasing or installments, etc., are not classified as – public land purchase transactions.
When assessing housing market data, the Centre of Registers allocates housing objects to residential buildings (buildings and buildings of one, two, three or more apartments for various social groups) and residential premises (apartments, premises for various social groups and residential premises).
Residential taxation under consideration: the Ministry has proposed three alternatives to Žygimantas Gedvila / 15min photo / Cars near apartment buildings
Gytis Kapsevičius Business Journalist
At a meeting of the Working Party on the Review of Tax Benefits on Wednesday, alternatives to non-commercial taxation of RE were discussed. Today, 150 000 people apply to a resident's real estate. 2008 — The amount of the exemption is eur 100000000. The Ministry proposes to grant concessions to the main dwelling, but to tax the remaining non-commercial property, such as gardens, garages.
According to Rūta Bilkštytė, Deputy Minister of Finance, who presented the proposals of the Ministry of Finance, it is proposed to change the current tax regime for non-commercial real estate (RE). It is proposed to tax from a certain threshold all real-time real-life housing held by the resident, leaving an exception for the main dwelling. The main dwelling place is defined as the property acquired by the resident by right of ownership and should have his/her registered place of residence. It is proposed that tax rates could be set by law or chosen by individual municipalities according to predetermined tariff ranges.
The bar for tax-free real-time re-entry is now set at 150,000. the threshold of EUR 100000 This amount has previously been reduced from EUR 250 000 in 2000 to EUR 250 000 in 2008. Euro. If Lithuania were to stay on the current RE taxation model, it would be considered whether the re-tax bar held by the co-resident should not be lowered even further to EUR 100 000. Euro. The ministry's proposal would be to grant relief to the main dwelling, while the tax would be on all remaining non-commercial assets of the resident above the threshold. Several classes of buildings are included in such property, such as gardens, garages, farm, greenhouse, farm, religious, recreational buildings, etc. "Then there is no difference where the resident is registered, it is important that he has non-commercial property. These assets would be put together in one amount and taxed," said R. Bilkštytė.
On the table are three alternatives to the group meeting and three alternatives to the current housing tax regime. Under current tax laws, $5.3 million was raised last year. Euro. The first is to apply a lower tax rate to housing following the example of Finland and Poland. For socially sensitive groups, such a tax could be further reduced until the first realm of the real transfer, for example in the case of inheritance. Under this option, if the rate were 0.01%, a total of EUR 3.5 million could be budgeted. Euro. Applying the NT rate of 0,01 to 0,1 % to the remaining NT could generate a further EUR 17,9 million. Euro. According to the ministry' representatives, such a model would prevent the artificial transfer of REAL, but at the same time it is noticeable that the new regime could increase social tensions. The second option is to exempt the main dwelling completely without attaching to its value. Such a relief, according to R. Bilkštytė, would be easy to understand for residents and easy to administer. Its minuses are that it would not be socially oriented and would not encourage regional development, but would be received by the population with the most expensive housing benefits. "The application of the exemption would not be proportionate, as some could benefit from lower value housing, others from higher ones. Therefore, a third alternative is proposed", said R. Bilkštytė,
This option would tax all real estate of a resident, with the exception of the main dwelling, depending on its value. The amounts of the tax-free RE could be determined on the basis of specific municipalities. Under this option, if the rate were between 0.01% and 0.1%, a total of around EUR 10 million could be budgeted. Euro. It is estimated that according to this alternative, vilnius city and district, Klaipėda district and Neringa municipalities would increase their income the most (from 2 to 4 per cent). Kaunas district, Trakai and Druskininkai municipalities would increase their income by 1.5–2 per cent. Only one municipality in Akmenė would receive nothing from such a procedure.
Šio pasiūlymo privalumais Finansų ministerija mato savivaldybių suinteresuotumo stiprinimą, gerinant nekilnojamojo turto vertę lemiančias apmokestinimo sąlygas. Tokio pasiūlymo trūkumai – didėsiančios socialinės įtampos rizika. Ekspertai pasisako už didesnius NT mokesčius Lietuvos savivaldybių asociacijos patarėjas savivaldybių finansų ir ekonomikos klausimais Giedrius Lingė kalbėjo, kad NT mokestis yra vienas geriausių pajamų šaltinių, o taikomas esamas modelis turi daug trūkumų. Šiandien taikomas neapmokestinamas dydis asmeniui sudaro galimybę dirbtinai sumažinti mokestines įplaukas ar turimo turto vertę. "Potencialas iš to mokesčio tikrai yra nemažas, žinant užsienio patirtį, būtų surenkamos žymiai ženklesnės sumos. Kitų realių galimybių didinti savivaldybių savarankiškus lėšų šaltinius nelabai yra. Komercinio turto apmokestinimas jau kaip ir visuotinis ir plėsti jo bazę rezervo nėra. Lieka gyvenamosios paskirties nekilnojamo turto apmokestinimas", – komentavo jis. Juliaus Kalinsko / 15min nuotr./Vilnius Patraukliausia alternatyva G.Lingei pasirodė pagrindinio būsto apmokestinimas mažesniu tarifu, tiesa, jis pažymėjo, kad šis tarifas turėtų būti didesnis nei 0,01 proc. "Toks mažas tarifas iš esmės nei duotų papildomų rimtesnių apčiuopiamų įplaukų, nei galėtų atšaldyti NT kainų burbulą. Tarifų dydžio klausimas yra svarstytinas, bet tokia alternatyva būtų pakankamai patraukli. Alternatyvos visai neapmokestinti būsto nereikėtų svarstyti", – sakė jis. Lietuvos banko valdybos pirmininko pavaduotojas Raimundas Kuodis pabrėžė, kad daug mokestinių modelių šalyje negali būti sutvarkomi be "socialinio popso". NT mokestis, anot jo, yra tapęs dar viena to auka. Ekonomistas pridūrė, kad leidus savivaldybėms pačioms nuspręsti dėl apmokestinimo, atsirastų interesų konfliktas, jos galėtų pradėti konkuruoti dėl mažiausių mokesčių.
"We need a broad base – this means that we tax the real values of assets. How to extract them is my old proposal to look at the practices of other countries, where a resident can declare the value of the property himself, but the state could, plus 20%, buy that property. If you say that housing is worth EUR 1000, the state could buy it for EUR 1200. A couple of such publicized cases would be enough and the jockeys would disappear," said R. Kuodis. He added that this was a model expressed a couple of decades ago, then proposed in search of ways to collect value added tax (VAT) from unscrupulous businessmen importing goods into Lithuania. R.Kuodis also advocated the introduction of higher RE taxes, as they could make asset management more efficient. "Although financially illiterate Lithuanians say that property does not ask to eat, it asks to eat. We would avoid people simply sitting in possession of property and waiting for it to be expensive. If they were to face the problem of property prices and had to pay 100 euros or something, residents would start thinking about whether they needed that property," the economist said. Elena Leontjeva, President of the Lithuanian Free Market Institute (LLRI), said that the tax rates of 0.01-0.1% chosen by the Ministry of Finance as an example are low and it may happen that a large part of the revenue collected will be eaten up by administrative costs. It also pointed out that, although the group's objective is to reduce the number of preferences, the proposed arrangements could further increase this indicator.
"Another thing is that the real estate itself does not generate the income needed to pay that tax. Lithuania leads the EU in terms of the number of pensioners who own real estate. For those people, it's going to be a big concern about how to generate income. It's no secret that today and younger people buy second and third homes as their future pension "Fund". And when we see that normal funds are constantly being narrowed down, people are looking for their own solutions," said E. Leontjeva. She added that although the transformation would give greater powers to self-government, this topic may become a significant tool on the field of political struggle both in the upcoming municipal elections and in the Elections to the Seimas. "If we want to increase the financial autonomy of municipalities, it should not be forgotten that every year there is a huge redistribution. It should be ensured that redistribution rates are stable and predictable on an annual basis. The second issue to be linked to this is the connection of circular municipalities, because the question will arise that people work in one place and live elsewhere. These issues are very important and need to be addressed," the economist commented. The Ministry is excluding six strands of the review of the tax system : promoting profit reinvestment, the Green Deal, reducing income inequality, reviewing special tax conditions and benefits, model of investment and long-term savings instruments and strengthening self-financial autonomy. This group meeting was the penultimate of the six scheduled.


BEAUTIFUL HOUSES
3 days ago
Artist The Weeknd bought the most expensive real estate purchase of 2021 in California: explore the villa for $70 million (PHOTOS)
The Weeknd (real name Abel Makkonen Tesfaye), a famous US artist and record producer, has been heavily expended. Man buys most expensive 2021 real estate purchase in California – impressive villa for $70 million.
the Bel_air villa was purchased by the famous singer from Dutch-born business pair Reinout and Danielles Oerleman, who bought the villa in 2015 for $21.4 million. Usd 100 million. Even for 3 years, the Dutch couple devoted 3 years to the renovation of the house: renovated outdoor and indoor spaces, complemented the interior with modern accents, modern household appliances, products of famous furniture makers, various works of art.
Villa interior – a mix of modernity and classics. In the renovated villa, the elements of classical design are pinned with a modernist style, which, as is known, is very close to the artist himself. It is claimed that the performer, as soon as he entered the villa, realized that his new home would be here.
Artist The Weeknd bought the most expensive real estate purchase of 2021 in California: explore the villa for $70 million
Vida Press
Impressive not only the interior of the villa, but also the exterior – The villa is surrounded by flowering gardens of amazing beauty, which are maintained daily by dozens of gardeners. It's good to walk around here and regain your strength after a marathon of work.
Artist The Weeknd bought the most expensive real estate purchase of 2021 in California: explore the villa for $70 million
Vida Press
Justina Maciūnaitė 3 September 2021 05:30
After looking at the purchase and sale prices of real real-life for some time now, we want to look at: annual house price growth is estimated at about 15%. Of course, the rental market is also reacting to rising RE prices. There is also double-digit price growth, a jump especially seen in Vilnius. However, experts warn – we will work: creativity may be needed to live and work in Vilnius.
This year the RE market was very active throughout Lithuania. Luminor Bank Chief Executive Officer According to economist Žygimantas Maurico, in terms of house price growth in the European Union, our country is certainly at least in the TOP three. It is recorded that since the beginning of the year, according to Inreal data, the prices of new dwellings have grown by about 20 per cent on average, the prices of all apartments in Lithuania, according to Ober-haus estimates – more than 15 per cent (according to July data). "This is due to such reasons that the Lithuanian economy has not experienced some kind of crisis, people's incomes are growing quite rapidly and recently we see that positive expectations of people are forming very much. Those who were waiting for price adjustments saw that they were not there and the train seemed to be going, so a large number of buyers started buying apartments en masse, trying to keep up with that train, and speculators also joined them, something we have not seen since 2006-2007. This is a hot market and we see this in the statistics: the annual price growth of housing is 15 per cent, and if we look at the ad portals, we will see that residents have raised REAL prices by 19 per cent per year, in Kaunas – over 20 per cent, in Palanga – 40 per cent. These are the figures and we have not seen them in 2006-2007. There is a growing risk that real-world price bubbles may swell, at least in certain segments," the economist commented on Delfi TV's "Four Borders."
Another significant reason that affects the activity of the RE market is bank interest. Marius Čiulada, Head of the Old Town Office at Ober-haus, recalls that today borrowing is very cheap, the bank's interest margin is about 2%, which means that it is not useful to keep a deposit. Rental prices have also risen There is no doubt that activity and changes in the REAL sales market also affect the rental segment." According to Eurostat data, in a decade in our country, house rents have more than doubled, according to statistics department, since 2015 – as much as 30 percent. According to Maurico, the main factors influencing rental prices are income growth and population growth in metropolitan areas, especially in Vilnius. The latter factor affects the demand for rented apartments. "Demand for renting housing was high. At the same time, the rental market is becoming more transparent, we can see that developers are also investing in rental housing, projects are being built in which apartments will be intended only for rent. This is a very changing rental market, it is slideing and price growth is being tracked at a relatively rapid pace. The growth rates may even be somewhat surprising, as they are double-digit. The fact that the rental market is becoming more transparent means that prices are also rising, as taxes are paid, and the quality of housing is rising, and as the quality of housing increases, prices also rise," explains the interviewer.
M. Čiulada, head of the Old Town Office of Ober-haus, calculates that rents in Lithuania as a whole increased by 2% in the first half of this year. The overall annual average price increase is usually around 5%. True, according to the interlocutor, it should be noted that the adjustments to rental prices are influenced by seasonality. "The pandemic has an impact on the rental market, but seasonality is more. Now autumn has come and already since mid-August the demand for apartments for rent has increased significantly, not only for students, but also for company employees who came here to work from other countries. And not only the language about Vilnius goes, practically every city in Lithuania has its own target audience of housing tenants. There are students and foreign employees in Vilnius, especially from Belarus we have a lot of IT specialists. But in Vilnius, the influence of students is much less, because the market itself is larger and much more flexible. In Kaunas, for example, the impact of students on the rental market is much greater. In Kaunas, for example, even the first co-living projects were implemented, not in Vilnius. In other Lithuanian cities, such as Šiauliai, there is a strong transport sector, there are a lot of Belarusian and Ukrainian workers who just arrive for a while and leave quickly. This is where housing occurs, as old houses are transformed into like hotels and beds are rented there, not even rooms," the interviewer discusses the trends of the rental market in Lithuania.
Nuomos rinka lėčiau reaguoja į paklausą Ekonomistas Ž. Mauricas pabrėžia, kad, esant tokiai paklausai, įtaką nuomos kainoms turi ir butų nuomai pasiūla. Kuo ji mažesnė, tuo didesnių kainų nuomotojai gali prašyti. Butų nuomai pasiūla, pasak M. Čiulados, lėčiau reaguoja į paklausos poreikį. "Nuomos rinka nėra ta, kuri reaguoja greitai ir iškart, kai paklausa stipriai išauga, pasiūla spėja taip greitai sureaguoti. Tai atsispindi kainose. Jeigu imtume ilgesnius laikotarpius tai matytume, kad būsto nuomai pasiūla tikrai auga, mes kiekvieną mėnesį fiksuojame po kelis šimtus naujų butų ir, jokia paslaptis, keliasdešimt jų yra nuperkama būtent nuomai. Aišku, jie rinkoje atsiranda po kokių pusės metų, bet tai rodo, kad būstų nuomai daugėja", – sako M. Čiulada.
Būstų nuomai perkama daugiau ir dėl to, kad lietuviai savo santaupas investuoti būtent į NT, ypač kai, kaip jau buvo minėta, bankų sąlygos dėl paskolos yra tokios geros. "Pajamos iš būsto nuomos yra apie 5 proc. vidutiniškai. Tai jeigu pinigai kainuoja (banko palūkanų marža – Delfi) 2 proc., nuomotojui lieka nemažas skirtumas jam į kišenę. Taip pat ir nuomininkai, jeigu būstas nuomojamas dėl to, kad tiesiog nėra pinigų pradiniam įnašui arba dažnai keičia būstus ir pastovaus pirkti dar nėra pasiruošę, jie moka nuomotojui tuos 5 proc., nors šalia yra banko pasiūlymas už 2 proc. Matydami tokius skirtumus nuomininkai galbūt irgi nori tapti pirkėjais, nebe nuomininkais. Dėl to ir ta pirkimo rinka yra tokia aktyvi, nes yra tų, kurie perka investicijai, ir tų, kurie perka sau", – aiškina pašnekovas.
Vilniaus NT rinka kelia nerimą Šiuo metu Vilniuje, kuriame nuomos rinka yra didžiausia, populiariausius 1–2 kambarių butus galima išsinuomoti nuo 300 Eur už senesnės statybos būstą, geriau įrengti butai gali kainuoti 450 Eur per mėn. Kalbant apie naują statybą, kainos prasideda nuo 450–500 Eur ir daugiau, priklausomai nuo įvairių faktorių: rajono, įrengimo būklės ir pan. Ekonomistas Ž. Mauricas pabrėžia, kad nuomos kainomis sostinėje stebėtis nereikėtų, nes Vilnius, kaip ir daugelis kitų ES sostinių, yra brangus miestas. "Pavyzdžiui, ES skaičiavimais nuomos kaina Vilniuje dviejų kambario buto, yra apie 800 eurų, vieno kambario – 600 eurų, kai vidutinis atlyginimas Vilniuje siekia apie 1100 eurų. Jeigu atlyginimas yra dar mažesnis, tada jau reikia užsiimti kūryba: ieškoti mažesnių butų, nuomotis būstą co-living principo projektuose ar pan. Bet tokia tendencija yra visose ES sostinėse, Vilniaus kainos praktiškai tapo vienodos su Rygos, Talino kainomis, panašios ir į Varšuvos, Bratislavos nuomos kainas. Ir iš tiesų iššūkis pragyventi sostinėje, jeigu pajamos yra nedidelės", – pabrėžia ekonomistas.
Neatsilieka ir NT pirkimo-pardavimo kainos, būstas visame Vakarų pasaulyje darosi vis sunkiau įperkamas, Lietuva – ne išimtis. Ž. Mauricas pabrėžia, kad istoriškai Vakaruose 90 kv. m būstas turėjo būti įkandamas 5 metų darbo užmokesčio santaupomis. Dabar daugelyje ES sostinių nėra tokių rodiklių. "Vilniuje turi dirbti 12 metų, kad įsigytum būstą. Berlyne štai bus net referendumas, kurio klausimas yra, ar nusavinti būstus iš tų kompanijų, kurios užsiima būstų nuoma", – pasakoja ekonomistas. Pašnekovas įspėja, kad ir NT nuomos, ir pirkimo-pardavimo kainų augimas Vilniuje turi stabtelti, antraip galime susidurti su nemenkais sunkumais. "Jeigu mes prisidirbsime ir iškelsime būsto kainas iki nebeįkandamų, galime prarasti tą konkurencinį pranašumą prieš kitų šalių sostines. Jeigu būsto kainos, nuomos kainos bus labai didelės, darbuotojai rinksis kitas valstybes. Taip pat ir Lietuvos verslininkai, jeigu Vilniuje bus per brangu jų darbuotojams, jie savo verslus kurs kituose miestuose", – pabrėžia Ž. Mauricas.
Tačiau M. Čiulada įsitikinęs, kad Vilnius – didelis miestas, turintis ne vieną patrauklų priemiestį ir naujakuriai nebūtinai turi ieškoti būsto pačiame gyvenamosios vietos kuo arčiau centrinės miesto dalies. "Vilnius yra didelis miestas, aplink jį yra mažesnių priemiesčių, tai nebūtina gyventi miesto centre. Miestas, galų gale, plečiasi, aplink Vilnių dar yra nepanaudotų plotų. Vėlgi, tai yra miesto strategijos klausimas, kaip miestas vystysis. Dabar strategija yra tokia, kad reikia tankinti sostinę, vyksta konversijos ir pan., miesto centras keičiasi ir tam, kad turėtume efektyvų viešąjį transportą, jis turėtų dar sutankėti. Bet reikia nepamiršti, kad ir aplinkui turime priemiesčių, kurie yra arčiau gamtos, tai Vilniaus situacija tikrai nėra tokia bloga. Turime ir konkuruojančių miestų, kurie mielai priims naujakurius", – pabrėžia NT ekspertas.
Kaip sustabdyti nuomos kainų augimą? Nuomos kainos ir toliau auga, tačiau šį procesą galėtų sustabdyti didesnė būstų nuomai pasiūla. Daug vilčių dedama į NT vystytojų plėtojamus projektus, kuriuose visi butai skirti tik nuomai. M. Maurico teigimu, tokiu būdu padidėjusi pasiūla galėtų sustabdyti kainų augimą. "Kalbant būsto įperkamumą, tai kainų augimą visame Vakarų pasaulyje lėmė mažos bankų palūkanos. Žmonės linkę investuoti savo pinigus į būstą, keldami jo kainą. Tai atitinkamai įperkamumas mažėja. Istoriškai buvo tokia taisyklės, kad Vakaruose 90 kv. m būstas turėjo būti įkandamas 5 metų darbo užmokesčio santaupoms. Dabar praktiškai nė vienoje ES sostinėje nėra tokių rodiklių. Vilniuje turi dirbti 12 metų, kad įsigytum būstą. Berlyne štai bus net referendumas, kurio klausimas yra, ar nusavinti būstus iš tų kompanijų, kurios užsiima būstų nuoma", – komentuoja ekonomistas. Visą pokalbį galite žiūrėti laidoje "Keturios sienos".

Read more: https://www.delfi.lt/bustas/nt-rinka/gyvenimas-sostineje-tampa-issukiu-ekonomistas-ispeja-prisidirbsime.d?id=88094755






Apklausa atskleidė, kas svarbiausia Lietuvos gyventojams renkantis naują būstą
Kaistant nekilnojamojo turto (NT) rinkai, naujos statybos būstai išgraibstomi dar iš brėžinių. Renkantis naują gyvenamąjį būstą Lietuvos gyventojams svarbiausia jo energinio efektyvumo klasė, darbų kokybė bei garso izoliacija, rodo reprezentatyvi gegužę atlikta bendrovės "Spinter tyrimai" apklausa. NT vystytojai įspėja, kad ne visus šiuos aspektus pirkėjams pavyksta tinkamai įvertinti prieš įsigyjant norimą būstą.
Vertinant daugiabučio privalumus net 71 proc. apklausoje dalyvavusių šalies gyventojų mano, kad svarbiausia atkreipti dėmesį į jo energinio efektyvumo klasę. Pasak generalinio rangovo "Versina" projekto vadovo Aleksandr Inozemcev, dažniausiai pirkėjai nori kuo aukštesnio energinio efektyvumo, tačiau retas kuris žino, kuo skiriasi A+ ir A energinės klasės.
"Energinė klasė nurodo, kaip efektyviai pastatas naudoja energiją pagrindinių funkcijų užtikrinimui, kad būtų šiltas ir sandarus. Kuo aukštesnė energinė klasė, tuo didesnis energinis efektyvumas. A+ klasės būstas pasižymi didesniu komfortu ir mažesnėmis šildymo išlaidomis, nes jo statybai naudojamos geresnės termoizoliacinės medžiagos, pasirūpinama tinkama pastato vėdinimo sistema išlaikant jo sandarumą", – pasakoja A. Inozemcev.
Neįvertinama garso izoliacija
Apklausos duomenimis, rinkdamiesi naujos statybos būstus šalies gyventojai vertina ne tik darbų kokybę, bet ir būsto garso izoliaciją – šie aspektai svarbūs atitinkamai 63 proc. ir 61 proc. respondentų. Jei darbų kokybę galima įvertinti tik įsikėlus į įsigytą būstą, tai apie garso izoliaciją galima spręsti iš anksto iš jai suteiktos klasės.
Nuo 2004 m. Lietuvoje naujiems daugiabučiams privaloma atitikti C klasės garso izoliaciją, tačiau retas kuris projektas gali pasigirti aukštesnės klasės garso izoliacijos sprendiniais. Aukštesni garso izoliacijos standartai pradedami įgyvendinti tik dabar. Pavyzdžiui, Vilniaus senamiestyje šiuo metu statomas "Mindaugo rezidencijos" projektas leis naujakuriams pasiekti A klasės garso izoliaciją – šio projekto statytojas atliko daug kompleksinių sprendinių, kad įgyvendintų kuo aukštesnius garso ir akustikos slopinimo reikalavimus.
Apklausa atskleidė, kad naujos statybos daugiabučių garso izoliaciją labiausiai vertina respondentai su nebaigtu viduriniu išsilavinimu (74,6 proc.), tuo tarpu aukštą išsilavinimą turintiems svarbesnė yra energinio efektyvumo klasė (79 proc.), o garso izoliacija yra trečioje pasirinkimo vietoje.
"Būsto garso izoliacija yra svarbi gyvenimo kokybei – jei nuolat namuose girdėtume kaimynų žingsnius ar pokalbius, iš kiemo sklindantį triukšmą, jokia pastato energinė klasė ar vaizdas pro langus to neatpirktų. Geriau gyventi ne tik šiltai, bet ir patogiai, turėti privatumą – aukščiausios klasės garso izoliacija užtikrina, kad būsto gyventojai nei girdės, kas vyksta už jų namų sienų, nei jų skleidžiamų garsų klausysis kaimynai. Tik visų komponentų išpildymas suteikia pilnavertiškas komfortiškas gyvenimo sąlygas", – teigia A. Inozemcev.
Tyrimo duomenimis, į garso izoliaciją renkantis būstą dažniau atsižvelgia moterys ir mažesnių miestų bei kaimo vietovių gyventojai, taip pat studentai.
"Dažna NT pirkėjų ir pardavėjų nuomone, norint ramesnės gyvenamosios vietos naujo būsto reikėtų žvalgytis atokesnėse miesto vietose ar priemiesčiuose, miegamuosiuose rajonuose. Tačiau pasirinkus būstą su itin aukštos klasės garso izoliacija, galima turėti ramybės užutekį ir pačiame miesto centre", – tvirtina A. Inozemcev
Akustikai svarbios ir statybinės medžiagos
Pusė apklaustųjų mano, kad renkantis naują būstą yra svarbi daugiabučio vieta, ypač vertinant jo lokaciją gatvių triukšmo atžvilgiu.
"Lietuvoje pirkėjai itin nenori gyventi šalia intensyvaus eismo gatvių ne tik dėl triukšmo, bet ir dėl automobilių taršos. Kita vertus, gyventojams itin aktualus geras susisiekimas su miesto centru, kasdien lankomomis vietomis – didesnėmis parduotuvėmis, mokymosi įstaigomis, darbovietėmis. Tad dažnam tenka ieškoti kompromiso tarp to, kur norisi gyventi, ir kasdienio judėjimo maršrutui artimos lokacijos", – pabrėžia "Versina" atstovas.
35 proc. respondentų dėmesį atkreipia į statybos medžiagas, kaip blokeliai ir gelžbetonio plokštės, 31 proc. – į langų tipą, 29 proc. – į fasado apdailos medžiagas.
"Daugiabučio statyboje naudojamos medžiagos turi daug įtakos ne tik pastato termoizoliacinėms savybėms, bet ir akustikai. Pavyzdžiui, nuo statyboms pasirinktų monolitinių namo perdangų, pertvarų, išorinių lauko sienų priklauso, ar girdėsite kaimynų ar transporto keliamą triukšmą. Apdailos medžiagos taip pat nėra tik dėl grožio, jos irgi gali sulaikyti šilumą ir triukšmą", – sako A. Inozemcev.
Siekiant išsiaiškinti šalies gyventojų nuomonę dėl naujos statybos daugiabučių privalumų, bendrovė "Spinter tyrimai" gegužės 18–28 dienomis apklausė 1010 šalies gyventojų, kurių amžius – 18-75 metai.
Šaltinis: bns
In 2020, the French association FNSafer, which is responsible for managing the rural real estate (RE) market in the country, recorded 111 930 transactions in which the buyers were not related to agriculture. That's 6.6% more than a year earlier, writes The Local.
Sales of houses with plots of land of 5 hectares or more amounted to EUR 23.5 billion. 12.1% more than in 2019. According to the experts of the association, the desire of the townspeople to escape to the village is determined by the desire to have more space during quarantine. The transition to teleworking has also made a significant contribution to this. It was because of it that people had the opportunity to save their jobs in Paris, living themselves on a day's drive from the capital.
In Paris itself, the RE market is starting to cool. On the secondary market, the number of housing transactions decreased by 14% in the first quarter of 2021. Meanwhile, average REAL prices in Paris have changed very slightly, increasing by only 1.7% to €10,600 per square metre, according to data from the Paris Bar Association.
The rest of France's RE market, on the contrary, is booming. The number of homes sold on the secondary market in the country has risen by 1.5% since March 2020. by March 2021. reached a record level – EUR 1,08 million
FNSafer president Emmanuel Hest believes the increased demand for real estate in rural areas in France will be a long-term phenomenon. "It's not a tsunami, it's an underground source. Probably the desire to move will remain for several years", – he was secondary to Thierry Delesalle, a lawyer based in Paris.
Source: prian.ru
Source: https://www.ntnaujienos.lt/pasaulis/prancuzai-ankstus-butus-keicia-i-medinius-namus?fbclid=IwAR3u0DzsKuX8rhxyCHfjgR8bQ5s9M7dRxYHVlQb34GhsEan9ax8LMCmNXrI
"In Sweden (and not only) house prices flew into space," economist Žygimantas Mauricas said in his account. Annual house price growth in Sweden is now as high as 23%, which, according to economists, is the fastest growth rate in history. Apartment price growth jumped to 12 per cent. Similar trends are observed in other developed countries. "For example, annual house price growth in the US has accelerated to 12% (the fastest growth since 2006), while in many Countries of the European Union prices are also rising at the fastest pace since the house price bubble of 2005-2006. Interestingly, real house price growth (i.e. in line with inflation) is the fastest in OECD countries since 1973," Mauric wrote. However, he is not surprised by this trend, as "the pandemic is coming and passing and economic stimulus remains". "For example, after the SARS epidemic in Hong Kong in 2003, house prices rose by as much as 30% in 2004, so history seems to repeat itself (unless central banks and governments press the brake pedal)," he said. According to Maurico, demand in the housing market is determined by several factors. One of them is that residents spend more time at home during quarantine, so they pay more attention to the disadvantages of existing housing, and when they are often seen, the desire to buy a new home also comes. As people are likely to continue to work more time from home, there will also be a desire to have a separate work space. Therefore, according to the economist, more spacious apartments or houses are being sought. "House prices in Sweden are rising faster than apartments," Mauric said. Another reason for purchasing a new home is the significant amount of money saved due to the restrictions imposed on travel abroad and leisure services. "In Lithuania, the amount of household deposits during the COVID-19 crisis has increased by as much as 20%", he calculated. As well as one of the reasons, Mauric also identifies people's fears that the unprecedented pouring of money into the economy will depreciate their savings in the future, so residents invest part of their money in housing. "Ultra-low interest rates also stimulate investment in housing, as other alternatives are either fixed "loss-making" (e.g. GPA yields in many euro area countries are negative even in the very long term) or high-risk (e.g. share prices have already reached pre-crisis highs). So investors are looking for alternative investments," the economist said. However, he urged not to forget something and to be conscious. "The higher you rise, the lower you may fall", so I wish not to lose common sense, especially since the more the housing market heats up, the more likely it is that governments and central banks will start cooling it. So the end of the party may come much earlier than many expect at the moment. In addition, you do not need to put all the eggs in one pint and in any case you need to diversify your investment portfolio," mauricas recommended.
Source: https://www.lrytas.lt/verslas/rinkos-pulsas/2021/05/21/news/bustu-kainos-isskrido-i-kosmosa-ispeja-kad-vakarelio-pabaiga-gali-ateiti-gerokai-anksciau-19451561/
SEB: Pandemic delayed home loan season and pushed for more spacious homes
Government warns all garden owners: abandoned plots will be taken away and sold at auction
Have price ceilings been reached already achieved?
New Real Estate Tax. How do you look or property for €100,000 per person, is many or little?